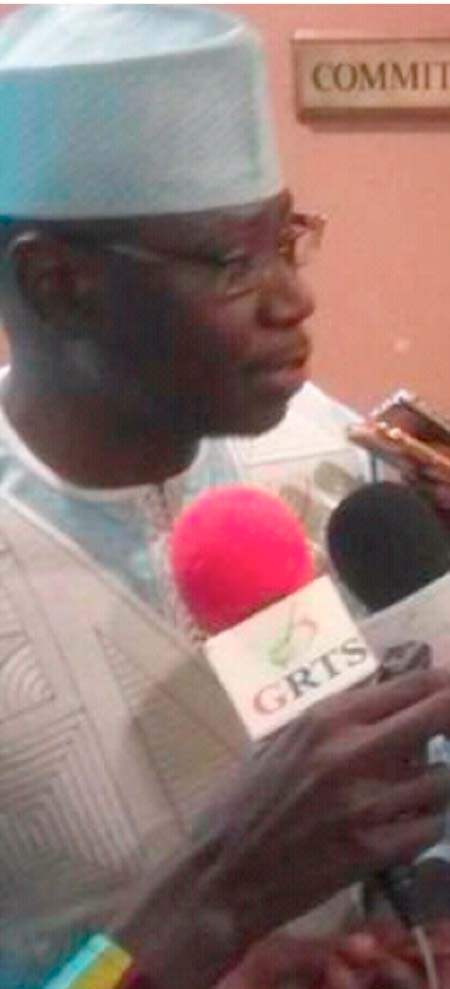 Gambia's Interior Minister has come out publicly to apologize to Foroyaa journalist Kebba Jeffang, who was reportedly assaulted by political party supporters last Sunday.

Minister Fatty made the apology on Friday after a closed door meeting with journalist Jeffang and members of the executive of the Gambia Press Union, GPU.
Mr Jeffang was allegedly physically assaulted by political party supporters at a joint press conference called by the UDP, NRP and GMC parties last Sunday at the UDP Bureau in Manjai Kunda, after asking a question to the UDP party leader Ousainou Darboe.
The press conference was convened by the three parties to clear the air on their positions on the upcoming parliamentary elections, at a time when the coalition could not reach an agreement as to how they would be contesting in the election.
According to Minister Fatty, the reported assault on journalist Jeffang was "uncalled for, unacceptable' and he did condemn it "outright in its totality".
"I think there should be no appropriate justification to attack anyone, particularly a journalist in the course of their duties. They are performing a very indispensable role in our development. Journalists are part of development, they are not punching bags."
Fatty said the incident that happened involving journalist Jeffang and the three political parties was "wrong, morally unjustifiable, illegal and should not have taken place. This is not The Gambia we want to build.
"The Gambia we want to build is one of tolerance and acceptability, respect for the rule of law, inclusion. If our supporters are found wanting, it is appropriate that we come out and condemn it publicly and express solidarity with the victim. "I will go beyond that to take personal responsibility for the actions of my supporters, if they were those involved, and on their behalf to apologize to Mr Jeffang for their actions, which was inappropriate."
At the level of the ministry, he said, it was important that they had learnt a lesson from this incident. If they were aware that a public function would take place and they were informed on time, he went on, they would have provided adequate security to protect and avert precisely a situation of that nature.
"I am confident that if we had police protection, Mr Jeffang would not have been subjected to what he was in the hands of certain elements, whose actions tend to be prejudicial to stability.
"Jeffang is a good journalist. He has written many articles that supported many of these parties involved. He also wrote on issues of concern. That is the work of a journalist. They should not only be praise-singers. They are supposed to inform and educate, and that was what Jeffang was doing. I am made to understand that Mr Jeffang was in fact in possession of an invitation letter to come to this event. So, he was our guest and, if you got assaulted as a guest, it is only appropriate that the host comes to his defence."
Emil Touray, president of the Gambia Press Union, also described the attack on journalist Jeffang as uncalled for and not in line with the constitution of The Gambia.
"We are in a new Gambia where we feel that behaviours such as assault on any citizen have no place in society.
"It is, therefore, profoundly important that the militants of these parties understand that their actions are not only unlawful, but inhumane and degrading and they should be censored in its totality.
"It is with that view that we are working to addressing this issue, and to talk to party leaders so they can make their members understand that in any democracy, there must be respect for the fundamental human rights, as well as the universal human rights. Therefore, it behooves on all to ensure that those rights and values are protected and the only way to do that is they do not behave in any way that compromise these values."
According to Touray, Interior Minister Mai Ahmad Fatty had expressed remorse for what happened, and added that alone shows that "this is a government that is ready to work with the Press".
The GPU president added: "We will also do our best, as members of the Fourth Estate, to make sure that we continue the good work, and as well ensure that we do our work within the limits of, and according to law."
Read Other Articles In Article (Archive)