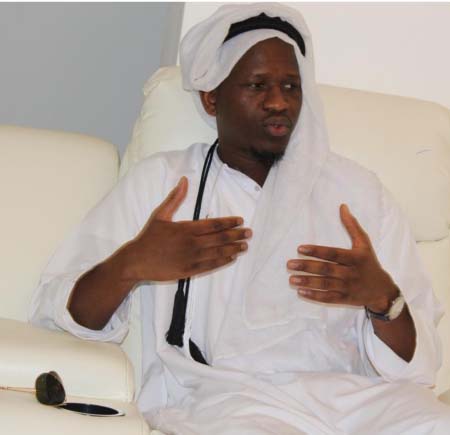 Prince Ebrahim Sanyang has called on all political leaders to engage in an urgent dialogue to resolve the current political impasse, so as to free the nation of uncertainty and anxiety.

He said: "As a one-family nation, Gambia's political leaders owe it to our people to sit round a table, see eye to eye and dialogue for a peaceful resolution.
"This is no time for bi-partisan politics. This is a time when the nations interest supersedes all. Our nation is at a fundamental crossroad; therefore, leaders must all prioritise urgent peaceful dialogue for history to judge them accordingly.
"The citizens frustrations on current political impasse is very unfortunately manifested; others especially many of our old folks are terrified by all these uncertainties and are leaving our beloved nation. This is not nice."
Prince Ebrahim called for urgent dialogue among all stakeholders; an initiative he is prepared to sponsor in the interest of sustainable peace and stability in the country.
He noted that under the under current political situation, no single leader, party or even interest group or nation can manage the reaction of the majority, come 19 January and beyond.
In this vein, Prince Sanyang appealed to both the civilians and security services to safeguard the peace.
He said: "I am appealing to the people to maintain maximum restraint, civil order and promote spirit of one nation and people, and not to engage into anything that will vex the current peace.
"I am equally appealing to all security forces to be extremely sensitive in execution of their duties, and not act in any way that may question their impartiality or that could bring about discontent, disunity and misunderstanding among our one-family nation."
Prince Ebrahim also called on the media fraternity to promote content that will promote peace, unison and stability.
He urged media practitioners to continually inform, entertain and educate people "throughout this period and beyond with ethics and balanced editorial standards".
As part of his own dialogue initiative, Prince Ebrahim had meetings with President-elect Adama Barrow, Mama Kandeh of Gambia Democratic Congress, and the Speaker of the National Assembly.
He described Barrow as peaceful and humble man, and Mama Kandeh as a kind older brother who he personally knows very well. Speaker Bojang, he said, was his babysitter at birth.
He said from these meetings, there was a consensus that dialogue is an agreed way forward.
"I do not see any reason or person that should become a stumbling block to resolve the current impasse, they must talk and talk now," he said.
"This political stalemate requires all inclusive solutions through dialogue only. I have no shadow of doubt that behind the scene peaceful dialogue will yield far greater resolve than rhetoric and military threats."
Prince Ebrahim said the current situation is already affecting businesses in the country because trade thrives in an environment that is certain and stable.
He commended "the good people of The Gambia" who had been working behind the scene to resolve all through dialogue.
Asked which party he belongs to, Prince Ebrahim said: "I belong to all and belongs to nobody. Meanwhile, I fully accept that it is a very difficult period for all; let us not allow emotions to cloud our judgement. By Grace of Almighty God, this will pass through dialogue."
Read Other Articles In Article (Archive)