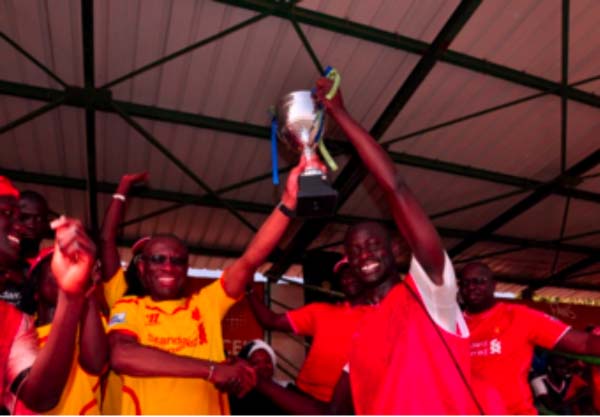 LC Lions on Saturday defeated Diversity FC 2-1 at the 2015 Road to Andfield 5 on 5 games local football final competition held at the Father Gough football field in Manjai organized by Standard Chartered Bank The Gambia.
The day-long annual tournament brought together 25 teams with SCB's clients among them, 5 selected media houses, LFC fans club, top 20 RC clients, all CIC clients, all SME clients, all priority banking clients and all staff.
Following their local championship, the LC Lions FC will play at the regional tournament in Ghana next month, which will include winning teams from Nigeria and Ghana.
Addressing teams before the kick-off games, SCB chief executive officer, Humphrey Mukwereza, reminded the gathering that the bank ran an exciting local tournament, which resulted in 10 teams taken to play at the finals at Anfield, Liverpool, in the United Kingdom.
He pointed out that in case the LC Lions wins in the regional tournament in Ghana, they will be given another opportunity of a life time to play at the finals at Anfield against 9 other Standard Chartered markets.
"Since 2010, the partnership between Standard Chartered and Liverpool FC has generated great excitement around our brand, and provided outstanding opportunities for our clients," he said.
According to him, being a brand which is passionate about what resonates with their customers and clients, they at "SCB" have leveraged on their sponsorship with Liverpool to make the dreams of many Gambian football fans come true.
He said they have so far taken 15 people to Liverpool to either watch a live match or play a tournament at Anfield with the aim of taking eight additional customers as part of the three Roads to Anfield campaign, and possibly another 10 from this year's local team if they happen to win the regional tournament in Ghana next month. He said the occasion was an opportunity for the bank to deliver on their brand promise of being here for good.
Read Other Articles In Article (Archive)