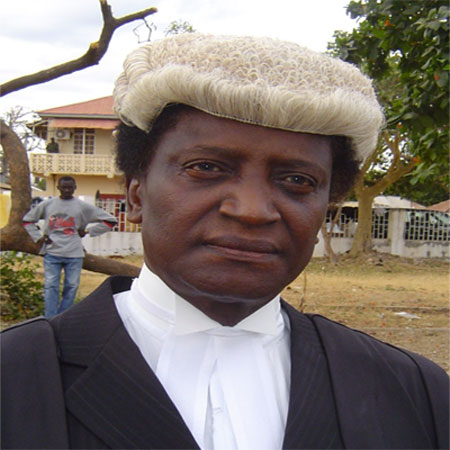 This paper can reveal the appointment of Lawyer Edu Gomez as the new Police Adviser, replacing Famara R.I. Jammeh whose contract is said to have expired.
Lawyer Gomez, whose appointment took effect yesterday, before becoming a private legal practitioner served in the Gambia Police Force for 20 years, before leaving the service in 1984.
After joining the Police Force in the 1950s, he underwent a six-months cadet officer training course at Mons Officers Cadet School in Aldershot, United Kingdom, in 1966.
He returned to The Gambia and served for a while, before returning to the UK for a captain's course at School of Infantry Warminister in Whiltshaire.
Edu Gomez returned home and, after he did a police course, and was appointed Commanding Officer for Western Division.
Lawyer Edu Gomez had also served as ADC to the former President, Sir Dawda Jawara.
Prior to that, before The Gambia became a Republic, he also served as ADC to Sir Farimang Singhateh, then Governor General of The Gambia.
In 1973, Mr. Gomez went to Nigeria to read Law at the University of Lagos, Nigeria, and later to UK for further reading in Law, where he was called to the Bar. He is a member of Grays Inn, London.
Meanwhile, upon returning to The Gambia, he served  in the police force, before leaving the service in 1984.
Reacting to his new position, Mr. Gomez said:
"In the Second Republic, since 1994, I have associated with the APRC as a party militant, and I am still a militant.
"I feel honoured and privileged to be given the opportunity to serve my country to improve the police force, where I had worked for 20 years.
"I will do my best to improve the standard of the police in the area of law enforcement, national security and stability. "I also thank those who have so much confidence in my ability to continue serving my country in the spirit of patriotism and sincere devotion to all Gambians.
"Once more, I want to serve as a servant and not a master."
Read Other Articles In Article (Archive)