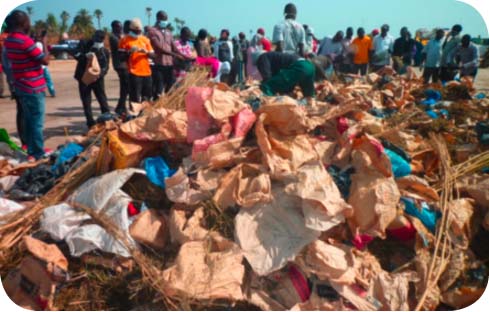 Drug and Law Enforcement Agency The Gambia (DLEAG) yesterday destroyed seized quantities of drugs at a public destruction exercise held at Old Cape Road in Cape Point, as part of efforts at eradicating drugs in the country.
Cases relating to such drugs are said to have been "successfully" dealt with in court.
The drugs destroyed included cannabis sativa (2 tonnes, 546kg 10g), cocaine (8kg 280g), hashis (1kg 200g) and controlled drugs (4360 tablets).
Speaking at the destruction exercise, Bakary Gassama, acting director general ofthe National Drugs Enforcement Agency (NDEA), thanked his staff for "the good job they are doing" to ensure drug peddling is eradicated in The Gambia.
Without his able staff, he said, the agency would not have been able to discover and gather all the drugs destroyed.
Mr Gassama also told the gathering that the day marked another important landmark in their quest to fight and win the war on drug abuse and illicit drug trafficking in The Gambia, as dictated by the Drug Control Act 2003 and its subsequent amendments.
"It is also a historic day, because we want to use this public destruction exercise to amplify the voice of our President His Excellency Sheikh Prof Dr Alh. Yahya A.J.J. Jammeh, for his resolve to wipe out drugs and corruption in the face of our motherland The Gambia," he said.
"These drugs we are about to destroy have all been successfully and judiciously prosecuted in the various narcotics courts across the country. These drugs were seized from our own brothers, sisters, uncles and relatives. What that means is that drugs are around us and it is our collective responsibility to remove them from our midst. Indeed, drugs continue to pose a serious threat in our society in a number of ways."
Mr Gassama said that at the level of the agency, they "are doing everything to curb drug abuse and illicit drug trafficking" in the country.
On the supply reduction trend, he added, the agency had tried to make its presence felt in every border post (sea, land and air) and police station in the country.
Through this, he added, the agency had registered an unprecedented number of seizures of drugs and successful prosecution of offenders, under a strict drug supply reduction strategy that includes the policing of all the country's major borders and police stations.
Nai Ceesay, permanent secretary at the Ministry of Interior, in his remarks, applauded the agency for the "wonderful work" it had done over the past year in dealing with the world's "deadliest enemy", drugs.
"You will all agree with me that combating drugs is one of the hardest jobs one can embark upon in our modern times," he said.
Over the years, PS Ceesay noted, the number of drug users and traffickers has increased "tremendously", and their methods of concealment and trafficking are also getting more sophisticated each day.
Read Other Articles In Article (Archive)