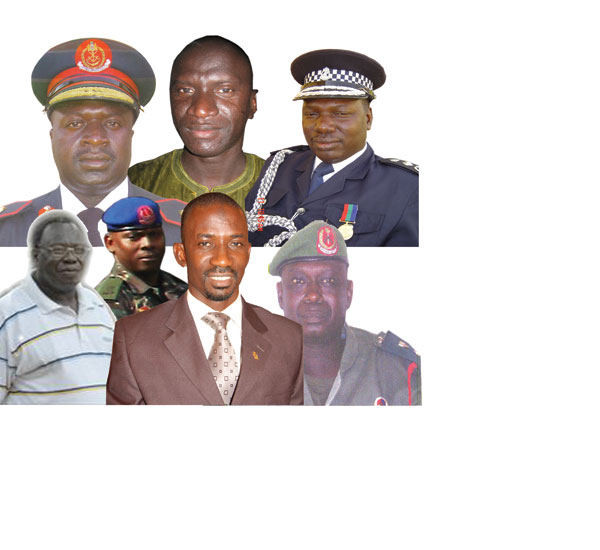 A seven-member panel of judges of the Supreme Court of The Gambia headed by the Chief Justice yesterday substituted the death sentence imposed on former CDS Lang Tombong Tamba and six others to life imprisonment, but said the conviction was sustained.
The seven, convicted and sentenced to death by the high court on conspiracy and treason charges on 15 July 2010, are Lt. General Lang Tombong Tamba, Brigadier General Omar Bun Mbye, former director of operations and training at GAF, Col. Lamin Bo Badjie, former NIA director, Modou Gaye, former deputy IGP, Gibril Ngorr Secka, former deputy Gambian Ambassador to Guinea Bissau, Lt. Col. Kawsu Camara, alias Bombardier, former commander of Kanilai Camp, and Abdoulie Joof, a businessman.
Delivering the court's ruling on the defence motion for a review of the case, the Chief Justice, Eli Nawaz Chowhan, said the Supreme Court could review a case when there was an exceptional circumstance which would lead to a miscarriage of justice or the discovery of important evidence not known to the appellants.
The applicants had filed an appeal at the high court on 19 October 2012 following their conviction on charges of treason, for which they were convicted and sentenced to death on 15 July 2010.
Dissatisfied by the judgment of the high court, each of the appellants filed an appeal separately to the Gambia Court of Appeal, and the appeal was dismissed.
In filing another appeal to the Supreme Court, counsel for the appellants said the death sentence had not taken into consideration that no actual violence had taken place, and that the action did not cause death.
The Chief Justice said both parties quoted international treaties which deal with the right to life.
The conventions cited by both parties were well known at the time of the trial, according to the Chief Justice.
However, domestic law would always prevail over international treaties, unless the latter are incorporated in the domestic law, he added.
He said the appellants emphasized their right to life, and maintained that exceptional circumstances existed for the court to review the judgment.
They also cited the failure of the National Assembly to review the death penalty, as required by the constitution.
However, the Chief Justice went on, the state respondents asked whether there exists any exceptional circumstances, and whether any important evidence was discovered which was not known to the convicted persons, to now warrant a review.
The Chief Justice, in delivering the courts final judgment, announced that it was the court's decision that the death sentence should be modified to life imprisonment, but their conviction would be sustained.
Lt. General Lang Tombong Tamba and the others were accused of conspiring to stage a coup d'etat and overthrow the President and democratically-elected Government of The Gambia by force of arms.
Read Other Articles In Article (Archive)