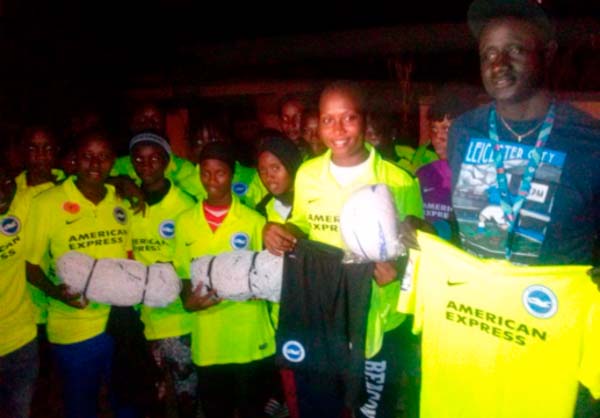 Abuko United female team on Wednesday 30 November 2016 received football materials from two philanthropists Mr Saidou Saine and Mrs Diana Saine at a presentation held at Gamtel training ground at Abuko.

The materials included footballs, nets, jerseys, shocks among others.
In his remarks Modou Jarju, head coach of Abuko United, described the day as special for them.
He said they usually have difficulties in raising funds for the team. He also expressed concern about the team's lack of football materials.
For her part, Mariama Malack, captain of the team, described the day as unprecedented as it was the first time the team had received such a gesture.
Saidou Saine, co-founder of Big Smile Project, said he and his wife Mrs Diana, who he described as backbone of the project, will work hard to send more materials, adding that they have been thinking of sending a container full of footballs, corns, shocks, nets and other materials to support Gambian football.
Mr Saine, a former first division player in The Gambia, recalled how hard it was to even get football boots despite his natural talents.
He said this motivated him to begin doing volunteering service in the UK to be given football materials to send to The Gambia to help young ones.
"Smile project is all about supporting Gambians to help themselves," he said, adding that they were not only involved in sports, but are also into health, education and agriculture.
Delivering the vote of thanks on behalf of the team Yaya Dampha, assistant coach, expressed delight about the gesture and thanked the donors while assuring them that "the materials will be put into good use".
Read Other Articles In Article (Archive)