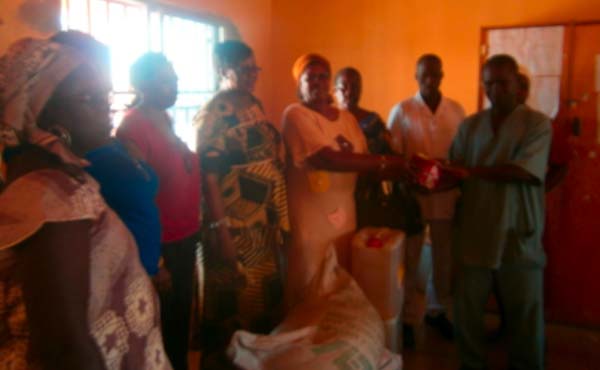 Ladies Circle Friday donated foodstuff to Tanka Tanka Psychiatric Hospital. The food items which included rice, oil, onions, potatoes, sugar, tomato paste and chicken legs.
They were presented to authorities at the Tanka Tanka Psychiatric Hospital, during a ceremony held at the hospital grounds in Siralage.
Speaking at the presentation ceremony, Ola Gorre-Ndiaye, president of Ladies Circle, said the items were bought from the funds raised during their Carols Singing in December 2013.
She said their main objective and focus in raising these funds was to donate part of the proceedings to the Tanka Tanka Psychiatric Hospital, and to assist other organisations that fall within the same category.
The Ladies Circle came in existence in 1998, when the wives of the MANOJADA group thought it would be worthwhile to play their role in addressing some social ills in the nation, by generating funds to help in their own small way.
Apart from carol singing, they have held in previous years various activities, as a means of generating funds.
From such proceeds, they have been able to donate to the mental health hospital at Campama in Banjul, and to the Children's Ward at the Edward Francis Small Teaching Hospital in Banjul.
In 2013, they donated to two charitable organizations namely, St. Vincent De Paul and the Methodist Mission Medical Board.
Momodou Ann, senior nurse at the Tanka Tanka Psychiatric Hospital, said they were happy to receive the items on behalf of the patients.
Ann said only those with the feeling of humanity in them would think of the patients of the Tanka Tanka Psychiatric Hospital, and offer them a helping hand.
They are happy and thankful to the donors, and hoped others would emulate them. 
Read Other Articles In Article (Archive)