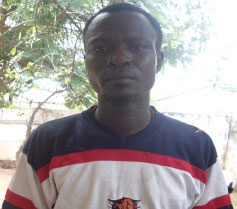 Moussa Mamane, technical director of the Gambia Kungfu association has appealed to the authorities responsible for the running of sports in The Gambia to consider giving equal treatment to all sporting disciplines in a bid to maintain togetherness, as the way forward.
Mamane who recently returned to Banjul alongside six combatants from the Gambia Kungfu association, after taking part in the African Kungfu championship in Dakar with a bronze medal, said he has suffered the bitterest experience of his life when their vehicle had a life-threatening accident caused by an electrical problem.
The accident was reported to the Gambian high commissioner to Dakar for financial assistance, but according to Mamane, their hope of receiving any financial support from that office proved unsuccessful.
This, he added, prompted them to make a personal contribution to make sure the problem was solved.
The Gambia Kungfu delegation to Senegal, Pointsport understands, was faced with a lot of problems ranging from injury to some of the participants, seizure of travel documents and notably, financial embarrassment, which forced them to reduce the number of participants from six to four, during the championship.
It was against this background that Mamane is calling on the authorities at the helm of sports in this country to give equal treatment to all the sporting disciplines in the country, so as to maintain oneness in Gambian sports.
Mamane was referring to the fact that, mostly, facilities are provided for other sports like football to the exclusion of other disciplines, something he is not satisfied with.
"All sports are equal, so equal treatment should be given to all to maintain togetherness and fair play in our sports," Mamane declared.
Read Other Articles In Article (Archive)