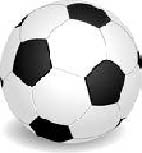 (Tuesday 8th February 2011 Issue)
The Saamasang sponsored Kombo Central District tournament continues to produce some fascinating and exciting encounters in various football fields across the district.
On Sunday Bafuloto beat Farato Sotokoi 1-0 in group C fixtures at the Farato Sotokoi playground.
Farato Sotokoi are therefore out of the competition, as they are still rooted at the bottom of group C with only a single point in three games, while Bafuloto have occupied 3rd position in group C with 4 points in three games.
On the same day, Bakary Sambouyaa draw 1-1 with Kabakelly in group A fixtures, at the Kitty football field.
Bakary Sambouyaa are 2nd place in the group with 4 points in three outings.
Sunday's matches saw Busura draw 0-0 with Penyem, also in group A, at the Markissa playground.
Busura are currently leading group A with 5 points in three games, while Penyem are 3rd position in the group A with 2 points in three games.
Elsewhere, Kitty drew 1-1 with Jalabang in group D at the Kitty playground.
Kitty are currently leading group D with 5 points in three games while Jalabang sit at  3rd position with 5 points thrilled by Kitty FC two goals.
Read Other Articles In Article (Archive)