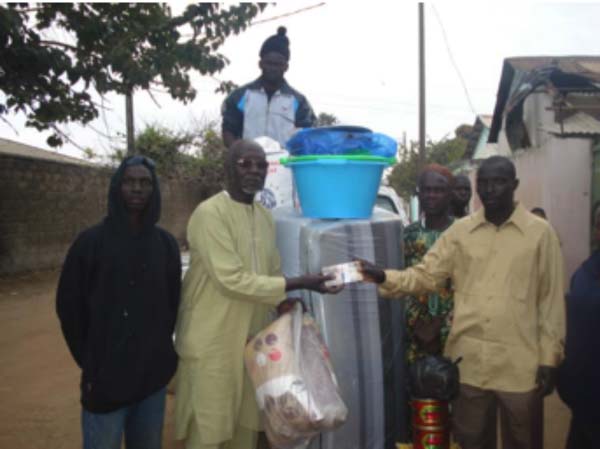 The Kanifing Municipal Disaster Management Committee (KM/DMC) Monday evening gave food and non-food items amounting to D5,000 and a cash amount of D5,000 to the family of the fire disaster victims of LatriKunda German, at a presentation ceremony held at the victim's compound.
The items presented were one mattress, one bag of rice, 2 pillows, one gallon of ten liter oil, 2 tins of tomato paste,2 buckets, 2 big plastic bowls, 3 food big basins, 2 drinking cups, ½ carton of milk, 1 carton of tea bag and 1 packet of milk.
Speaking at the ceremony, Mustapha Saine, member of the Kanifing Municipal Disaster Management Committee, informed the family that the items were made available to them by his committee through the Mayor of the Kanifing Municipality.
He reminded the family members to always remember that it was the Almighty Allah we all came from, and it is the same Almighty Allah that all human beings will return to.
Musa Mendy, Chairman Kanifing Municipal Disaster Management Committee (KM/DMC), on behalf of the Mayor of Kanifing Municipal Council, told the family members that they should have faith in the Almighty Allah in connection with the loss of their loved ones.
Alfred Diamakoun, the father to one of the deceased children, Alex Jatta aged 16, and Soffie Joof aged 7, and Etta Ndure, the landlady of the compound, both thanked the committee for the donation.
They said the presentation of the food and non-food items to them was timely, as no gesture of this kind is small.
It would be recalled that four children namely, Alex Jatta, Soffie Joof, Claudia Senghore and Arret Sarr, all lost their lives, during a recent fire outbreak at a house in Latrikunda German. 
Read Other Articles In Article (Archive)