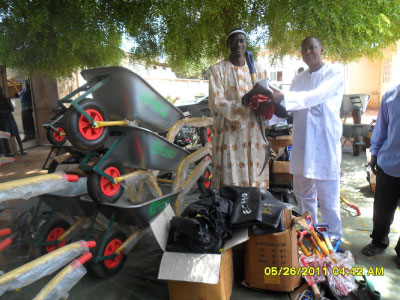 Kanifing Municipality Disaster Management Committee (KM DMC), under the National Disaster Management Agency (NDMA), in collaboration with Concern Universal (CU), recently distributed building materials and response kits to 100 families within the municipality.
The gesture forms part of the project funded by ECHO (European Commission on Humanitarian Aid) through Concern Universal at a cost of D1.4 million.
The items distributed included 500 pairs of rain boots, 420 pairs of gloves, 42 wheelbarrows, 42 pickaxes, 42 rakes, 42 hay forks, 56 spades, 28 cartons, 100 sets of rain coats, 1,000 bags of cement, 340 packets of corrugated iron sheets, 700 kilo of nails and 1,000 pieces of timber.
Speaking at the distribution ground at the KMC hall, Binta Sey-Jadama, Kanifing Municipality Disaster Coordinator, said KM was the region with the highest number of disaster victims.
She used the opportunity to advise people to avoid settling on waterways.
Mrs Jadama said her committee through the NDMA has trained Ward Councillors to identify disaster affected areas within Kanifing Municipality in a bid to enhance disaster reduction.
For his part, the NDMA executive director, Essa Khan, said The Gambia government has spent D60 million on the construction of drainage systems in major affected disaster zones throughout the country through the Office of the Vice-President.
Mr Khan called on the people, especially the beneficiaries, to collaborate with the Ward Councillors to clear waterways and drainage systems around their vicinities to ease the flow of water.
Kanifing Municipal Council Mayor Yankuba Colley commended the Government of The Gambia under President Jammeh for their show of support to disaster victims in the country.
He also thanked the KM Disaster Management Committee under their coordinator Binta Sey-Jadama for their hard work and the support they are rendering to disaster victims in the municipality.
Jainaba Manneh, a beneficiary, gave the vote of thanks on behalf of her colleagues, while Musa Mendy, Chairman of KM Disaster Management Committee, chaired the ceremony.
Read Other Articles In Article (Archive)