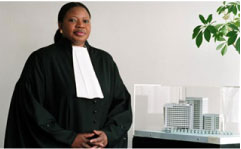 Deputy President William Ruto sat pensively in court as his lead defence counsel tore the prosecution case and presiding judge made a key revelation that could tilt the case either way.
In a day that could define the destiny of the five-year case, lawyer Karim Khan fired on all cylinders to demonstrate that the prosecution case had been evolving over the years and had irredeemably tumbled.
Presiding Judge Chile Eboe-Osuji, however, dampened the defence's hopes when he reiterated his doubts whether an "organisational policy" must be established as a prerequisite for finding that crimes against humanity were committed in Kenya after the post-election violence.
When Mr Khan appeared to gloss over the matter, the Nigerian judge told him that it was not a mere "academic discussion hanging in the air", that it was a significant issue weighing on the case.
"One of the things that has troubled me is whether we would be asking for an 'organisational policy' when we have a clear case of a genocide or something that looks like a genocide, in this matter, crimes against humanity. I am trying to understand that Mr Khan, can you help me?" he posed.
The judge said the matter of determining whether an organisational policy is a key determinant in the case is even made more significant when it is considered that the prosecution has issued notice of re-characterisation of the case.
In her current framing of the case, Chief Prosecutor Fatou Bensouda has named Mr Ruto as leader of a structured "network" which executed an "organisational policy" of killing, expelling and persecuting Kikuyu's and Party of National Unity supporters in Rift Valley during the post election period.
The "network" which the prosecution alleges included political, financial, military and media wings is the fulcrum upon which the current theory of the case is structured.
Khan, in his submissions yesterday, said the "networks" elements had disintegrated over time. "The evidential lacuna in maintaining this network is so pervasive that a reasonable chamber cannot convict anyone on its basis.
All the key elements of it are gone, every last one of them. Half of the political wing is gone, three quarters of the finance elements have disintegrated too," Khan said.
He said despite the toppling of the network, the prosecution was in "dire strain" of maintaining the same theory to ensure the case resembles the one they presented earlier on.
Judge Osuji severally cut short thelawyer, at one time cautioning him against use of adverse adjectives and at other times warning that the "purpose of court is not to come here and argue".
The judge did not appear particularly impressed with Khan's urge to move to "more productive areas of argument" when he engaged him on the organisational aspect of the 2008 violence, its relation with the 1992 and 1997 one as well as lessons to pick from previous cycles of violence.
Source: STANDARD Digital
Read Other Articles In Article (Archive)