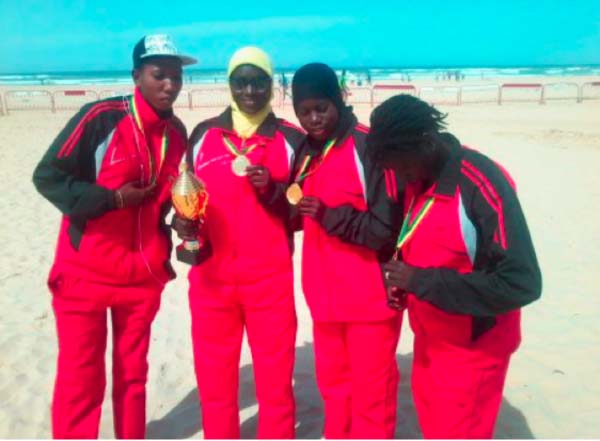 The Gambia has snatched gold, silver and bronze medals in the just-ended ECOWAS athletics championship hosted in Mbour, Senegal.
The championship brought together seven countries, namely the host nation Senegal, The Gambia, Mauritania, Guinea Bissau, Mali, Benin and Burkina Faso, for the regional championship.
The Gambia has won ten gold medals, three silver and four bronze medals.
The Gambia dominated track events, such as the 100 and 200 metres junior boys; 100 and 200 metres senior girls; 100, 200, 400, 800 and 1500 metres and the medley relay at the end of the competition.
Demba Marong won gold medal after snatching first position at 4.08.19 seconds in the 1500 metres boys' race, whilst Ebrima Camara, Assan Faye, and Tijan Keita clinched gold medals after securing first positions in 100 metres at 49.10 seconds and 400 metres boys at 10.67 seconds.
Gina Bass has snatched two gold medals in the 200 and 400 metres girls race after finishing first position at 11.93 seconds, whilst AdamaJammeh , Lamin Keita and Omar Jammeh also secured gold medal after finishing top spot in their race at 24.87, 49.53 and 1.50.1 seconds.
Demba Marong secured silver medal in the 1500 metres boys; Mariama Manjang won two bronze medals in the 100 and 200 metres girls' race after finishing third position at 12.59, 4.05.81and 26.60 seconds.
Abdou Assim and Ebrima Jarjue also secured silver medals in the 100 and 800 metres boys at 47.96 seconds and 10.66 seconds.
Mariama Fofana, Sona Saho and Awa Jallow won bronze medal in the 400 metres girls' race after gripping third place at 1.06.32 and 59.52 seconds.
Read Other Articles In Article (Archive)