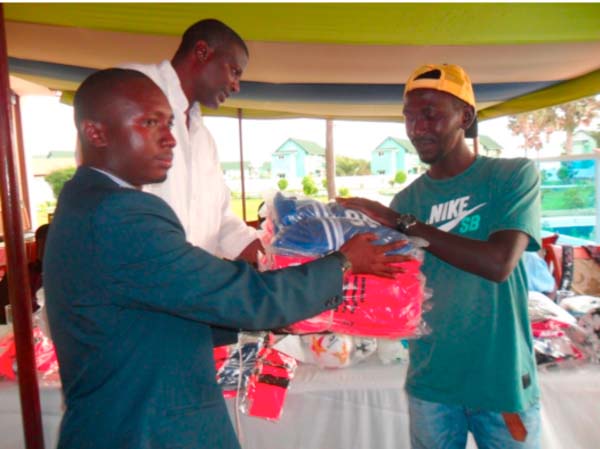 Kebba Manneh Foundation, a recently established foundation with the main aim of supporting sport, agriculture and health in the country on Monday 17 July 2017 donated sets of jerseys, socks, footballs and a cash of D4,000 as logistic cost to Galaxy FC and Fajara South FC (D2,000 each) as both teams jeer up for the upcoming Bakau Sports Committee nawetan competition.

Speaking at the presentation ceremony held at Sand Beach Holiday Resort, Pa Suwareh Faye, coordinator of the recently concluded late Alh. Kebba Manneh Memorial tournament, said the foundation is all about giving back to young people.
He highlighted the importance of the beneficiary teams maintaining discipline throughout the tournament.
Farimang Manneh, president of Kebba Manneh Foundation, said their goal is to help young people have hope, adding that The Gambia is a place to be and that everything is possible in the country.
Mr Manneh, who is the proprietor of Sand Beach Holiday Resort, said the tournament and support they have started is just the beginning of what they have planned for young people as they aim to help young people to the highest possible level across the country in all directions.
He also said that it is also their aim to support young people to ensure they succeed and have their dreams come true, noting that young people are losing their lives on the back-way journey to Europe hence need motivation to get them engage in something positive rather than risking their lives.
Baddi Jaiteh, second vice president of Bakau Sports Committee, said the aim of the committee is to see Bakau sports return to its glorious days. He therefore urged the people of Bakau to emulate the Manneh Family by investing in young people.
He also thanked the Manneh Family for the gesture.
Kebba Hydara, representative of KMC's Mayor, said sport is everybody's business and supporting grassroots football is highly commendable.
He described sports as expensive hence such support and partnership are crucial. He wished both teams a successful tournament.
Kebba Nyaw Ceesay, chairman of the recently concluded Manneh brothers-organised tournament, said they are proud to have a brother that is standing not only for Fajara but also for the entire country.
Mr Ceesay thanked the Manneh family for giving back to the community.
Ba Lamin Jatta, Galaxy FC head coach, in his vote of thanks, commended sponsors for the gesture and assured them that the materials will be used for their rightful purpose.
"The materials will boost the morale of his players," he added.
Read Other Articles In Article (Archive)