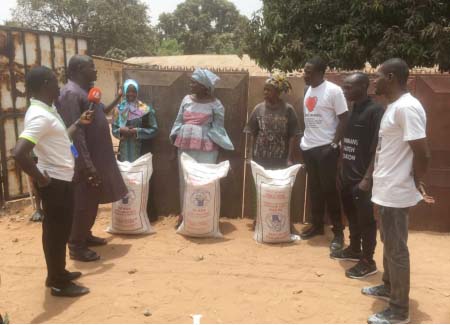 On Saturday, Karmic Angels and Sir Farimang Singhateh Foundation charitable organisations conducted their 3rd distribution of rice to the poor and needy families in The Gambia as part of their support during the course of the covid-19 outbreak.

The two charitable organisations run by Stephanie and Alan Turner (Karmic Angels) and Foday Mubaraka Singhateh (Sir Farimang Singhateh) have now distributed from their recent 20 push ups challenge in excess of 60 bags of rice with more to come.
During the Saturday presentations, the Karmic Angels and Sir Farimang Singhateh team travelled to a number of places to distribute the rice.
Some of the poor and needy in Bundung, Kotu Quarry, Manjai Kunda, Sinchu Alhagie, Faji Kunda, Sukuta and Latrikunda Sabiji received their 50kg bags of rice and their delight was for all to see.
Karmic Angels volunteer, Ajula Fofano said: "All the people who received rice today are extremely grateful and thanked the donors for the generous gesture."
Both organisations are very active in The Gambia and have helped in education, health, agriculture and sport as well as doing their bit to help the poor and needy during the lockdown.
The two organisations say more rice distribution will continue, anyone wishing to contribute towards a bag of rice can donate through the charitable organisations.
Read Other Articles In Article (Archive)