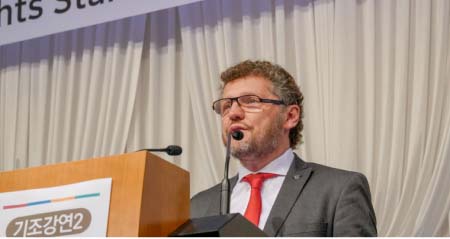 United Nations' (UN) Special Rapporteur, Fabian Salvioli said the release of junglers has eroded people's trust in Truth, Reconciliation and Reparations Commission (TRRC).

The junglers were allegedly accused of gross human right violations that shocked Gambians.
Fabian said the release of junglers also erodes trust of the people in government to conduct an effective transitional justice as people expressed fear of having junglers walking freely on Gambian streets.
"The government justified their release based on the fact that the junglers had been detained for two years without charges."
"It is concerning to see that decisions of this type can eat into the government's political capital, risking the country's incipient prosperous transitional justice process," Salvioli noted.
The UN rapporteur said in his meetings with victims, civil society, the diplomatic community, international organisations and some government officials, many concerns were raised as to the lack of progress in the area of accountability for past abuses.
He also added that these personnel believe that criminal prosecutions will help in the healing and reconciliation of Gambians and in the transitional justice process.
Fabian referred to a recent survey in which 68 percent of Gambians believe that "perpetrators of crimes and human rights abuses during Jammeh's regime should be tried in court."
"It is unclear if the lack of political will, or result of a phasing exercise in which truth, through the truth seeking commission, will precede criminal investigations and prosecutions.
Salvioli said his mandate is to address the serious Human Rights Violations committed during the 22 years of authoritarian regime under former president Yahya Jammeh. His visit sought to develop a broad view of the different initiatives that were adopted, identify best practices, determine problems and challenges, and provide recommendations.
''A full report of his visit will be submitted to the Human Rights Council in 2020'', he said.
Read Other Articles In Article (Archive)