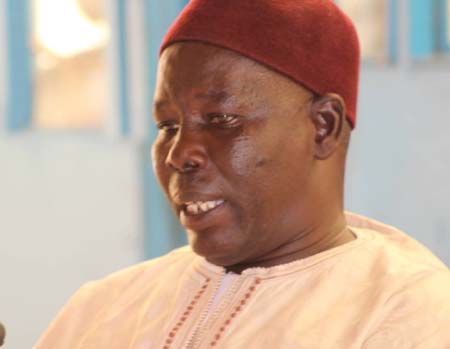 Alagie Babucarr Faye, the alkalo of Barra who appeared before TRRC's regional hearings in Essau in connection with his victimization by witch hunters in 2009. He testified that he spent $14, 000 and 300, 000 CFA on treatment after drinking witch hunters' concoction.

Born in 1962, Faye, a businessman, who also worked at the sea port, said he got the news from his elder brother in 2009 that some marabouts came to Barra and were taking his father away.
He said among those that went to arrest him were Salifou Corr, Saikou Jallow and Solo Bojang of State House.
At that juncture, the picture of Saikou Jallow was shown, confirmed, tendered and marked as exhibit 105.
He said while on a telephone conversation, he heard people shouting and screaming and one of the ladies was saying "you are killing my father."
The witness testified that his family members went to Baba Jobe's compound in Kololi in order to ascertain why his father was taken away. However, he said, he later heard that he was given a concoction to drink and could not control himself.
According to him, he heard that his father was given the concoction for the second time and had a plastic bag over his head, asking whether he was interested in continuing to be the alkalo in Barra.
He said he was further told that when his father took the concoction, he fell down and they thought that he was dead.
"However, he was subsequently released and taken to his sister's compound in Kotu for treatment."
Mr. Faye told the commission that when he was on the mission to take his mother to the ferry, he received a call from O.C. Jawo of Barra Station, informing him that he was needed at the police station for a small discussion. However, he said, upon arrival at the station, he saw the place surrounded by soldiers.
The witness said that Jawo called the soldiers and Salifou Corr drove the vehicle, while others sat behind the pick-up with their guns. "I was sandwiched in the vehicle and upon arrival at Fort Bullen they cleaned a ship house and locked me in there."
The witness alleged that Yahya Jammeh sent a marabout with soldiers to Fort Bullen because it was rumoured that there was diamond in that place. He added that at some point, no one was allowed to go around the area.
Mr. Faye alleged that the marabout was fooling Yahya Jammeh; adding that when he (marabout) got connected with Yahya Jammeh, he bought about 11 compounds between Barra and Banjul.
He said he later heard that experts were present to survey the place, but the marabouts ran away.
According to Faye, only one bus left Essau to Baba Jobe's compound. "While I was in the bus I bent down because I was embarrassed."
However, he later heard that they were captured on the pretext of being witches and wizards; adding that majority of those that boarded the bus were elderly people.
He said that he had 1,200,000 CFA and D12, 000.00 which he handed over to the witch hunters.
He narrated that before drinking the concoction, he saw old men, aged around 60, 70 and 80 years old, who were made to stand on one leg and to walk and if anyone fell down, he would be alleged a witch.
According to him, those who drank the first concoctions urinated on themselves while others vomited continuously.
Mr. Faye further recollected that he went to Dakar for treatment and the amount he paid in total was 300,000 CFA.
"I was told that my heart was sickly"
The witness testified that he eventually went to America to get treatment and was put in all kind of machines; adding that his brothers made a payment plan. According to him, the first payment cost $10,000 while the second and third time was $4000 dollars.
He said he took his father to Banjul more than 10 times for treatment and he was eventually taken to America and was also diagnosed with a heart problem.
However, he told the TRRC that his father had never complained to him of a heart problem; adding that the only disease he was diagnosed with was diabetes.
"They inserted a pacemaker for my father but he is now late. Prior to his death, he told me that the pacemaker was shocking him."
In his final remarks, he thanked the TRRC and urged Gambians to believe in God.
Read Other Articles In Article (Archive)