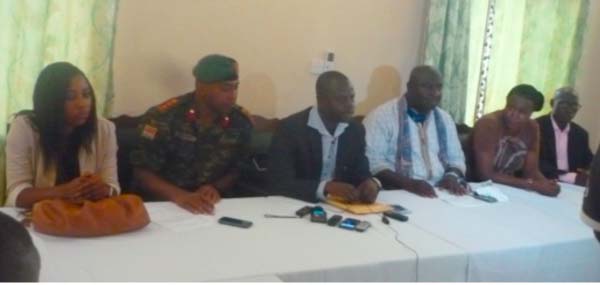 The July 22nd Marathon, initially billed for 30 July 2016, has now been rescheduled for Saturday 6 August 2016.

This was revealed to members of the media fraternity at a press conference organised by members of the marathon organising committee held at GAF Training Centre Mess in Bakau.
The marathon, which will be held in 3 categories, is organised under the executive directive of President Yahya Jammeh.
The categories are 42km run from Kuloro to July 22nd Square; 21km run from Lamin Galp Petrol Station to July 22nd Square, and 10km run from Buffer Zone to July 22nd Square.
There will also be a novelty run slated for Sunday 7 August 2016. The run is divided into 3 categories: first category for cabinet ministers, service chiefs, national assembly members and managing directors.
The second category will feature officials of the Attorney General's Chamber, the Chief Justice and the Judiciary. The third category will be between mayors, governors, seyfos, alkalolou among others.
The race will take place from the July 22nd Square to McCarthy Square.
The race will commence at 9am prompt for all categories but men, women and Paralympics participants will all be judged separately.
Athletes are urged to assemble by 8a.m. for the roll call.
Speaking at the briefing, Muhammed Jawla, deputy executive director of the National Sports Council , who doubles as head of the steering committee, in his remarks, said the event will be a historic one.
He added that the marathon is being organised for the first time in The Gambia, by President Jammeh.
He further described the marathon as a laudable and immeasurable initiative by President Jammeh as part of activities marking the July 22nd Revolution.
Mr Jawla said the marathon is aimed at bringing athletes together to run in the spirit of unity, peace, brotherhood, friendship, religious coexistence and mutual respect as well as to strengthen the stability and bond that exist between the people of The Gambia regardless of religion, race or tribe. "It is also meant for people to have fun," he added.
Paralympics will compete in a 21km race but will be judged separately to ensure fair play, he went on, saying the marathon is open to everyone within The Gambia and beyond.
He said handsome prizes will be attached to winners from 1st to 4th positions, while all other participants will be certified.
The marathon is not specifically a competition but to nurture unity, peace, brotherhood, friendship, religious coexistence and mutual respect among people, he said, adding that preparation and free registration are in high gear.
He also said there will be screening of athletes to ascertain if they are fit to run the marathon to avoid risks.
The Gambia Armed Forces PRO Colonel Yaya Drammeh said they will deploy as much police and PIU officers as possible on the traffic during the run to ensure there is smooth coordination for athletes to run on the road.
Drammeh urged people such as riders of motorbikes or other wheels, who try to support their participants on such events to desist from doing so. He also urged athletes to desist from cheating.
Alhaji Abdoulie Bojang, for his part, said there will be 18 water points on the way for athletes, adding that there will be enough water for athletes at every water point.
Alagie Badjie, Office of the President, who doubles as the Organising Committee's Technical Committee chairman, said a good number of athletes have already registered but they expect more athletes to register for the competition.
He stated that the armed and security forces will mainly participate in the 42 and 21km runs.
Read Other Articles In Article (Archive)