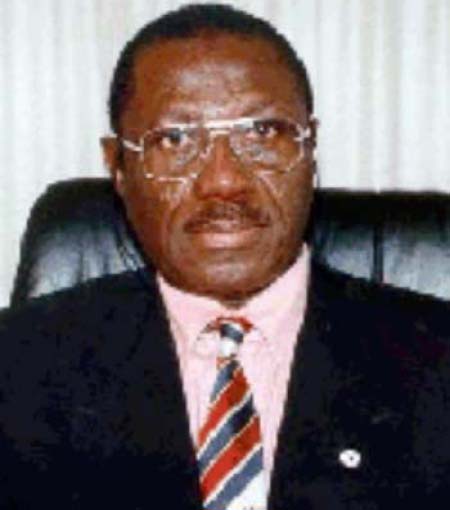 (Tuesday September 06, 2016 Issue)
He was among the "talented tenth" of Africans who, after completing their studies in the West, returned home to the countries of their birth to begin the daunting task of post-Independence nation building. Having qualified as a medical doctor and surgeon, he came home fully imbued with the spirit of public service, and over the course of half a century, served his nation and the entire continent of Africa with rare distinction. His death was a great pain, and it is indeed with great sadness that we mourn the passing of this illustrious son of the Gambia: Dr. Ebrima Malick Samba.
Dr. Samba was born in 1928, in Upper Baddibu, North Bank Region; and from an early age, the idea of becoming a doctor had caught his imagination, sparked by an encounter he had had with a doctor at his local hospital. In fact, he had been taken to the hospital, because he had broken his arm, having fallen from a mango tree. He was 14 years old at the time. Barthurst, the capital city, beckoned, as it did for all young, bright boys of the hinterland. Promptly he set out for the capital city, and through sheer pertinacity and brilliance, he got into school, eventually coming top in the Matriculation exams for entry into British universities.
Unfortunately, the privilege of intellect was not quite matched by the privilege of wealth, so he had to pass up, for now, the opportunity of studying in Britain, and took up, instead, an offer from the University College of the Gold Coast (renamed, University of Ghana, Legon). He graduated with a B.Sc degree in 1953. He proceeded, first, to Ireland, and then to Scotland, and by 1964 he had returned to the Gambia, having practiced briefly in the UK, with a double Fellowship, of the Royal College of Surgeons and of the Royal College of Physicians, and with his wife, Dolly Samba, and children Ebou Adama and Kinday ..
He joined the Royal Victoria Hospital, and in scarcely more than a decade he had risen through the ranks, from Specialist Surgeon to Medical Superintendent to Director of Medical Services of the Gambia, in 1978. Such were his talents that he was very quickly noticed by the World Health Organisation (WHO), and in 1979 he was elected to chair a technical committee of the World Health Assembly; one of many World Health commissions and committees he would chair or sit on.
Among his numerous achievements as Director of Medical Services, perhaps the most enduring, with far-reaching consequences, was his introduction of a national Primary Health Care plan in 1980, which still remains the bases of the country's national health care. In many ways, it was only a matter of time before WHO came knocking for his full-time services. And this came in December 1980, when he took up appointment as Director of WHO's Onchocerciasis Control Programme (OCP). This was a programme designed to eliminate river blindness, which had been ravaging vast swathes of West Africa, bringing much misery to many human lives. According a World Health Organisation report, when the programme "began in West Africa in 1974, 10% of the population in high impact regions was completely blind and 30% had severe visual handicaps. More than 250,000 square kilometres of once-productive river valley had been abandoned".
By the end of Dr. Samba's tenure, "37 million acres of fertile land had been freed for agriculture" and "17 million affected people have been resettled along the Volta river basin". Furthermore, the programme was extended to other affected areas on the continent. In recognition of this monumental feat, he received the Bazan Prize for Preventive Medicine and The Africa Prize for Leadership for Sustainable End of Hunger, in 1992. For most, this might have been the closing curtains of their career, but for Dr. Samba the professional ascendancy had one more rung to conquer: he became the WHO Regional Director for Africa in 1995. A position he held for a decade, transforming the office as sweepingly as he had done with the OCP.
It speaks immensely of the man that the stellar professional career never obscured his civic duty to his community. He had his feet firmly grounded in the common soil, in spite of the stratospheric achievements. Lesser men would probably have retreated into the ivory tower, in splendid isolation, with faux-patrician smugness. But not so Dr. Samba: a string of community initiatives have been credited to his name: the founding of the Muslim High School, in Banjul; the initiation of a "self-help project for a mission-run HIV/AIDS orphanage in Zimbabwe"; and on his retirement from WHO in 2005, the founding of a Senior Secondary School for girls, named after his mother, Sukai Ndatteh Mbye. His support of the health sector in this country had also been enormous, and it was a fitting homage to his achievements to have been honored by the School of Medicine & Allied Health Sciences of the University of the Gambia in 2015 at the induction ceremony of the newly qualified medical practitioners into the medical profession. There could not have been a finer specimen of role model than Dr. Ebrima Malick Samba.
He perhaps also exemplified the idea that science and religion need not be at loggerheads. The two indeed address different domains of the human condition, and can therefore sit cooperatively in the human heart, each ministering to its sphere of relevance. At the time of his death, he had been chairman of the Committee of Banjul Muslim Elders , having first served as Vice Chairman, and then taking over the chairmanship from the late Alh. Abdou Faal. Dr. Samba led several Islamic organisations and participated in numerous conferences in many parts of the world coming out with great success.. He was a staunch, deeply religious person throughout his life; a pious and strong Islamic leader. In his middle age, he was one of the youngest members to sit on the Board of the Committee of Banjul Muslim Elders, even though, at the time, he had a hefty international portfolio. He travelled widely, to Saudi Arabia and other Islamic countries, with the late Imam Ratib of Banjul, Alh. Momodou Lamin Bah and the Rabita, promoting Gambia's stature in the Islamic world. Throughout his tenure, he showed the same distinctive blend of qualities and competencies that had seen him scale the summit of his professional career.
As medical practitioner, researcher, academic, administrator, community leader and philanthropist, he represented the best of Gambia, with a model of excellence firmly rooted in industry, probity, piety and love of community and country. Under the umbrella of the Women's Bureau in Banjul, he created a revolving fund to support women farmers in horticulture, as well as in other projects, in the Kombo area. Dr. Samba was a hard working character, a no-nonsense man, who loved his children and siblings, especially his grandchildren, and everyone else associated with his family. His Hippocratic Oath went beyond his medical profession: it pervaded his whole being, leading him to a life of honesty, purposefulness, and selfless devotion to the common good. We celebrate his life and his tremendous achievements. His indelible footprints will remain clear forever.
His death has robbed us of a great man, and we extend our deepest condolences to his wives, children, grandchildren and the entire family. May Allah bless him and place him in Ja'naah in perfect and everlasting peace.
Compiled By: Alh. Alieu Mboge
Secretary
Committee of Banjul Muslim elders
September 2016
Read Other Articles In Article (Archive)