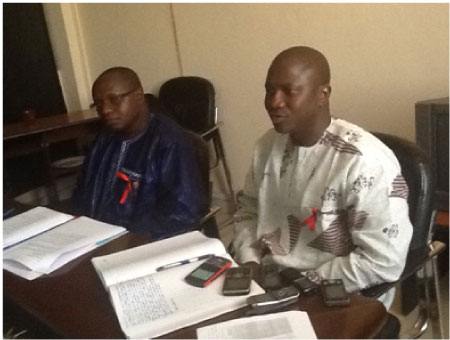 Every year 1st December is commemorated as the World AIDS Day. People and communities around the world dedicate the day to activities and events to cherish the memories of those who battle with the disease, and to celebrate progress achieved in the global response to HIV.
Just less than a week ahead of the day, the National Aids Secretariat (NAS) recently organised a press briefing for members of the press at its conference hall on Kairaba Avenue.
Speaking at the event, Nuha Ceesay, UNAIDS country officer, said the first commemoration was in December 1988.
He said the theme for this year's celebration is "Getting to zero". This, he said, would be to ensure that zero death relates with total elimination of the diseases.
He revealed that there is more than 50% drop in new HIV infections across 25 countries and thirteen are in sub-Saharan Africa.
According to Mr Ceesay, in 2009, UNAIDS made a call for the elimination of a new HIV infections among children by 2015 and keeping their mothers alive. He described the media as partners in disseminating information and promised they will continue working with them.
Almamo Barrow, head of health programmes at Action Aid The Gambia, said his organization is a key partner to NAS.
He noted that all partners and stakeholders have a key role to play in the fight against HIV, adding that the country has the ability to say no by protecting people of the country from the disease.
Ousman Bah of the Ministry of Health, Alpha Khan, deputy director of NAS and Ousman Njie, also of NAS, all spoke at length on the commemoration of the day.
According to officials, the day will be celebrated from 1st December 2012 to January 2013 and will be commemorated regionally.
Read Other Articles In Article (Archive)