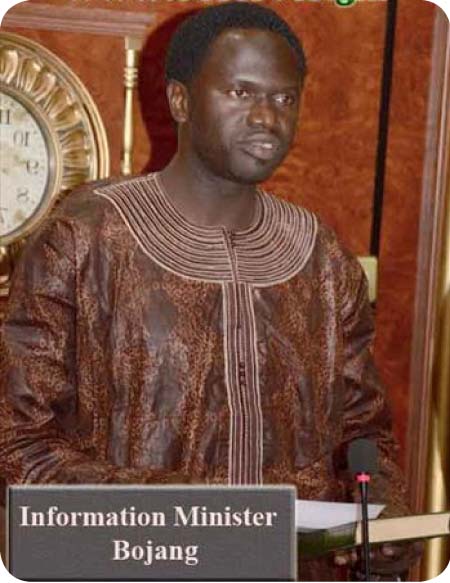 Hon. Sheriff Bojang, minister of Information and Communication Infrastructure, has said that journalism is a craft, not a profession, as it entails thorough apprenticeship for one to become a grounded journalist.
Hon. Bojang made this remark recently at the Paradise Suites Hotel in Kololi, while delivering a speech at the graduation ceremony of 12 Gambian journalists who successfully completed a two-year course at the Gambia Press Union School of Journalism.
Minister Bojang, who also lectured English language at the journalism school, said he used to tell his students that journalism is a craft that needs thorough training, a lecture opportunity and challenge for which he commended a GPU journalism course official, Dr Ralphina Phillot Almeida, who called on him to render such a service at the school.
He also said his students were able to establish and maintain a school newspaper called Star Newspaper, which served as learning or practicing tool for the students throughout the course.
He said he would always let his students go through all newspapers in the country to examine and learn from the mistakes and good work or others to develop themselves and apply better standard.
"Through the process," he added, "we are able to develop house style and pick out issues relating to bad writings."
He commended the graduands to put into practice what they have learnt as they keep learningnew things at their respective media outlets including radio stations, newspapers, televisions and online.
The GPU, in collaboration with Gambia Media Support, hired journalism experts to develop the standards for journalism education in The Gambia, under the Gambia skills qualification framework, said Gibairu Janneh, executive director of GPU.
He added that GPU School of Journalism in partnership with The Gambia Media Support, started in 2009 with a pilot programme called "Media For Development And Development For Media".
The National Training Authority, Mr Janneh noted, accredited GPU School of Journalism in March 2013 to provide journalism training in The Gambia.
"It was an unprecedented development in a country that has never had formal structure for journalism and under the framework the school is mandated to offer journalism education up to a diploma level," he said.
In his remarks, GPU School board chairman Almami Fanding Taal, told the graduates to thank the Danish people and government for supporting the school programme, whilst calling on them to be responsible in their career and always report accurately.
The graduation ceremony was attended by media chiefs including The Point Managing Director Mr Pap Saine (a doyen of Gambian journalism), other senior journalists and members of the media fraternity.
Read Other Articles In Article (Archive)