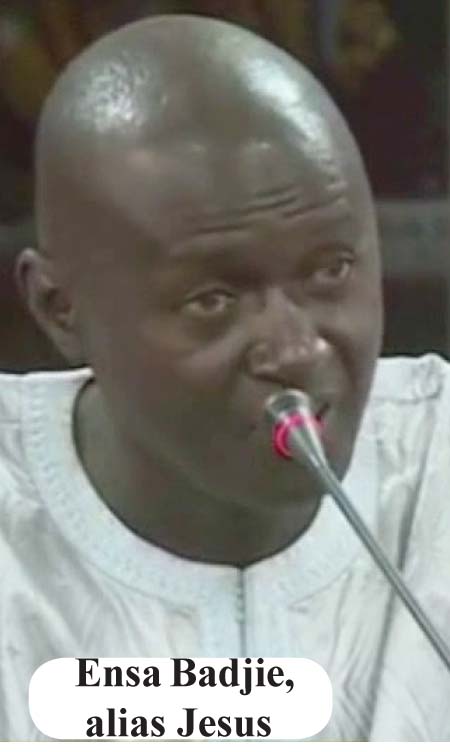 Former Inspector General of Police (IGP), Ensa Badjie, alias Jesus, yesterday testified before the Truth, Reconciliation and Reparations Commission (TRRC), disclosing that the former president, Yahya Jammeh had ordered Fula witch-hunters to the Police Headquarters to engage in a witch-hunting exercise.

Jesus who was appointed as IGP in June 2008, said he was called by the former president, Yahya Jammeh, who informed him that Solo Bojang would visit the headquarters with 'marabouts' and everybody should comply or be sacked.
He added that Jammeh told him that the witch hunters were Fulas and warned him (Jesus) that his head would roll if he did not comply.
Witness said 10 minutes after the conversation, Solo came with the Fulas and some armed soldiers with guns, adding that he saw some PIU officers standing with the green boys. "When they came to my office around 10 a.m. 11 a.m. on Wednesday, 2009, they were drumming and singing. The Fula man asked me to stand up and untie my clothes, I did and he took a big mirror pointing towards every direction in my office. He later said I didn't have anything. I was ashamed but I had no choice, no power, but to comply. When they were done, they asked me to go with them to offices. I went with Ken Mendy and I told him to write down the names of the pointed individuals."
Jesus testified that they couldn't go through all the offices and later went down for identification parade. He said he told officers that Jammeh said if anyone didn't want to comply with witch hunters, he should sack the person and he thus begged them to comply.
"The Fulas demanded us to form a circle and they were in the middle singing and drumming, while others where pointing mirrors and identified some people. Kumba Jatta was identified and they asked him to remove the things that he carried because it was not good."
He further indicated that the witch hunters told them that they shouldn't look at what Kumba was carrying because it was dangerous. So they decided to go with him inside and came back with plastic bag filled with Jujus.
"Kumba was given something like a human hand to hold and when he came back to the parade ground, they asked him to throw it down and the witch hunter didn't pick it up with his empty hands, instead covered it with something."
He pointed out that it was only four people that were identified, which included Kumba Jatta.
He said witch hunters later came with a brownish goat and a red cock, and one of the men directing the goat was holding a bottle of liquid.
"They buried the bottle with the blood of the animals. The Fula said we should recite after him. I was first to recite and other senior officers. We were told to swear that we are under Jammeh and the country and we will never betray him and the nation."
Witness explained that they took the oath because of fear and they were angry and embarrassed but no one could talk because they didn't trust each other.
He added that the people captured and taken to Baba Jobe's compound in Kotu where there were about 50 people and the way they treated them was very bad.
"Because of the command given to me, after the 3rd day, I heard that there was one person by the surname of Ceesay who refused to go with the witch hunters at their base in Kotu. I was told to dismiss him but I didn't, I demoted and transferred him far from Banjul."
Jesus said he heard that the witch hunters went to Foni and Essau for witch hunting but he never went with them.
He continued that he had problem with Jammeh and that became the reason for his arrest and charge in March 2010.
"Alhagie Morr, staff of the NIA and his people wanted to arrest me, but prior to that, I was informed about their plans. They tried for two to three weeks. Luis, deputy NIA called me and asked where I was, informing me that DG of NIA told him that Jammeh ordered to take me at prison."
"I told my driver and orderlies to drive me to NIA. We went there and I told the DG that I knew what was happening but the truth will prevail one day. I removed my rings and watch and gave it to my orderlies and told them (NIA) to take me."
The witness said at that juncture, they started torturing him with his hands cuffed. He adduced that a stick was put across his hands and legs and hanged him. He added that they were beating him and later took him to the Mile 2 Prison.
He narrated that the following day, they arrested his wife's father and sister and detained them at NIA. The following day, he added, they took him (Jesus) to the NIA and signed his dismissal letter and later taken to the prison.
"As I was in the cell, Alhagie Jobe took me out to David Colley's office. When they took me out around the back way, I recognised Bokar Sallah and Korka Bah. That night, they put me in a vehicle with hands cuffed and a nylon bag covered over my head. I struggled to breathe and they took me up stairs to NIA conference room. Omar Cham was the head of the torture team. I was bleeding and saw Koluta Manneh being brought up as well, while I was taken down."
Badjie testified that he was bleeding seriously that if he went to the toilet, blood would ooze. He said blood comes from his mouth once it's open.
He added that they made fabricated charges of robberies and sentenced him for life-line, 37 years, adding that he knew it was from Jammeh.
The witness disclosed that when he was pardoned, he wanted to say something that he may be taken back to the prison but his mother advised him not to do such.
However, Jesus said he has forgiven everyone that wronged him, from the former President Jammeh to the last person.
On April 10, 2000, incident, he said he was at Kotu Police Station at the time, adding that he was wounded and many vehicles were vandalised.
He added that his former boss IGP Benedict Jammeh never liked him, though they both hail from Foni. But said he (Benedict) always tried means to incriminate him by associating him with criminals.
Read Other Articles In Article (Archive)