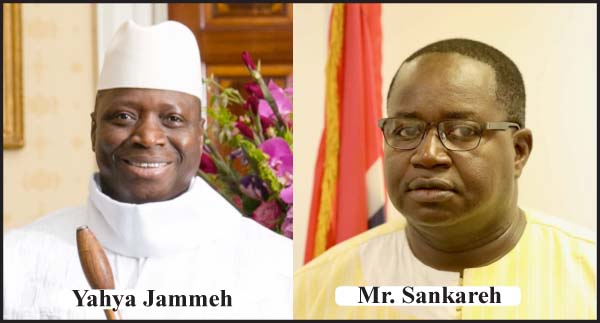 Ebrima G. Sankareh, the spokesperson of The Gambia government has dismissed rumours of the return of former President Yahya Jammeh to the country on 23 November 2019.

Jammeh is currently in Equatorial Guinea on self-exile following a shock defeat to the then Coalition candidate Adama Barrow in Dec. 2016 Presidential election.
The government spokesperson who was speaking on the West Coast Radio has described the rumour as false.
Rumours were rife in town mainly from supporters of the former regime that Ex-President Jammeh would return to the country on 23 November. His return, they suggested should have coincided with the APRC rally scheduled for the same day.
Meanwhile, the deputy APRC party's spokesperson, Dodou Jah, said the theme of that APRC rally would be: 'President Jammeh Must Come to the Country.'
Mr. Sankareh said: "From the knowledge of The Gambia government, former president of The Gambia Yahya Jammeh will remain in Equatorial Guinea."
"Anytime that he might return to The Gambia or move to any other jurisdiction, the Gambian people will be dully notified about it," he said, adding that Jammeh was not an ordinary person.
Jammeh, he went on, was a president for 22 years. "In the 22 years of his rule, so many unusual things happened in the country. Political scientists and sociologists even believe that thanks to Jammeh that Gambia even lost her innocence."
The circumstance that former President Jammeh left the country, he explained, was an unusual circumstance; adding that even the international community had to be involved and so many documents were signed and arrangements and negotiations were made by diplomats from various West African counties and the united nation was involved, and subsequently he had to leave to Equatorial Guinea."
"So honestly, I am aware of people buying t-shirts and selling t-shirts, but actually Jammeh's return is false."
Read Other Articles In Article (Archive)