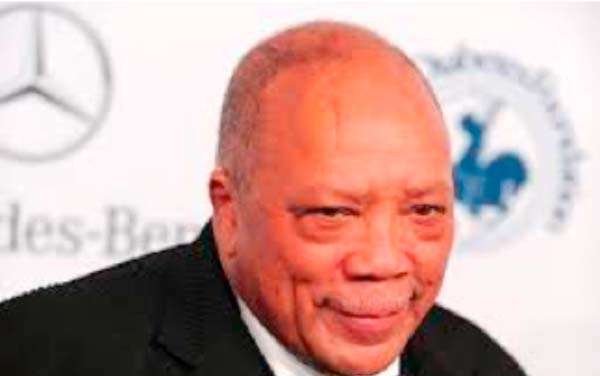 As we prepare to celebrate Jazz Appreciation Month and International Jazz Day in the month of April, we are excited to feature one of the most celebrated and influential Jazz musicians of the 20th Century. He is an American record producer, conductor, arranger, composer, television producer, film producer, instrumentalist, and Jazz trumpeter. His career spans six decades in the entertainment industry, and he has a record 79 Grammy Award nominations, and a Grammy Legend Award given in 1991. His contribution to music and the entertainment industry is unmatched and his ability as a leader has been proven and well documented.

He was born Quincy Delight Jones, Jr on the south side of Chicago in 1933 to Quincy Delight Jones Sr, and Sarah Frances Jones. His mother was church going and always sang religious songs at home which captivated the young Quincy and gave him an introduction to music. They also had a neighbor called Lucy Jackson who played a stride piano and young Quincy would often listen through the walls which added to his passion for music. When Jones was ten, his family moved to Washington State where he attended Garfield High School and became deeply involved in the School band developing his skills as a trumpet player and music arranger. By the age of fourteen, he was playing in a Jazz band with another classmate called Charles Taylor. It was during this time that he met a sixteen year old musician from Georgia called Ray Charles who became his friend and served as an inspiration to Quincy. He was impressed by the way Charles overcame a disability to achieve his musical goals.
In 1951 at the age of nineteen, Jones won a scholarship to the Berklee School of Music, but would soon leave his studies there in order to play and tour with bandleader Lionel Hampton. During this period, Jones successfully toured throughout Europe with a number of Jazz orchestras, and in 1956 he joined
The Dizzy Gillespie Band on a tour of the Middle Eastand South America. In 1957, Quincy settled in Paris where he studied composition and theory with Nadia Boulanger and composer Oliver Messiaen. He also became the French distributor for Mercury Records. It was during his stay in Paris when he met musician Harold Arlen and became the musical director of his Jazz band. He would later form his own band with musicians from that group called The Jones Boys. This group had eighteen artists and included double bass player Eddie Jones and fellow trumpeter Reunald Jones. They went on a tour of North America and Europe which met enthusiastic audiences and sparkling reviews, but the concert earnings could not support a band of this size. Poor budget planning resulted in an economic disaster and the band was forced to dissolve leaving Jones in a financial crisis. He would later say, "We had the best Jazz band on the planet, and yet we were literally starving. That's when I discovered that there was music and there was the music business. If I were to survive, I would have to learn the difference between the two." He received a personal loan from the head of Mercury Records at the time, Irving Green who also offered Jones a new job as the musical director of the company's New York division.
In 1964, Jones was promoted to vice-president of Mercury Records becoming the first African American to hold this executive position. In the same year, he turned his attention to film scores, another musical arena long closed to African Americans. He worked with film director Sidney Lumet, and composed the music for the movie Pawnbroker in 1964 which was the first of his thirty three major motion picture scores. Following the success of The Pawnbroker, Jones left Mercury records and moved to Los Angeles where he composed the score for the movie The Slender Thread, in 1965 starring Sidney Poiter. He was in constant demand after this and would compose numerous scores for many movies including In Cold Blood in 1967, Bob & Carol & Ted & Alice, The Getaway and Cactus Flower all in 1969. He also made scores for television sitcoms Sanford and Son and The Cosby Show.
In the 1960's, Jones worked as an arranger for some of the most important artists of the era, including Billy Eckstein, Sarah Vaughan, frank Sinatra, Ella Fitzgerald, Peggy Lee and Dinah Washington. His solo recordings also gained acclaim, including Walking in Space, Gula Matari, Mellow Madness, Body Heat and I Heard That. He is also well known for his 1962 tune "Soul Bossa Nova" which was the theme song for the 1998 World Cup.
In 1975, Jones founded Qwest Productions and produced hugely successful albums for Frank Sinatra and other major pop figures. In 1978, he composed the soundtrack for the musical adaptation of The Wizardof Oz, The Wiz, starring Michael Jackson and Diana Ross. In 1982, he produced Michael Jackson's all-time best-selling album Thriller.
In 1981, Jones produced the album The Dude which yielded multiple hit singles, including "Just Once" and "One Hundred Ways", featuring James Ingram on lead vocals and marking Ingram's first hits. In 1985, he wrote the score for Steven Spielberg's adaptation of the Pulitzer-Prize winning novel, The ColorPurple, by Alice Walker. That same year, after the American Music Awards ceremony, Jones used his influence to draw most of the major American recording artists of the day into a studio to record the song "We are the World" to raise money for the victims of Ethiopia's famine. When asked how he was able to do it, he explained that all he had to do after getting the artists to commit, was to tape a sign on the door of the studio saying, " Check Your Ego At The Door "
In 1988, Quincy Jones Productions joined forces with Warner Communications to create Quincy Jones Entertainment and signed a ten picture deal with Warner Brothers, and a two-series deal with NBC Productions. The television show Fresh Prince of Bel-Air is among many of his successful productions to come out of this deal, discovering Will Smith as an actor. In the early 1990's, Jones was also involved in a project which is still ongoing, called "The Evolution of Black Music"
Dating back to the 1970's, Quincy tried to convince Miles Davis to revive the music he had recorded on several classic albums of the 60's, which had been arranged by Gil Evans. Davis had always refused, citing a desire not to return to the past. However, in 1991, Davis relented and agreed to perform the music at the Montreux Jazz Festival. The resulting album from that concert, Miles and Quincy Live at Montreux was Davis's last released album. He died several months later and the release of that album was considered an artistic triumph. In 1993, Jones collaborated with David Salzman to produce the concert extravaganza, An American Reunion, a celebration of Bill Clinton's inauguration as president of the United States.
While working on the film The Wiz, Michael Jackson asked Jones to recommend some producers for his upcoming solo record. Quincy offered some names, but eventually offered to produce the record. Jackson accepted and the resulting record, Off The Wall went on to sell 20 million copies. This made Jones the most powerful record producer in the industry at the time, and the next collaboration with Jackson, Thriller, sold 110 million copies becoming the highest selling album of all time. He also worked with Jackson on the album Bad which sold 45 million copies and that was the last time the pair worked together.
In a 2007 interview, when asked if he would work with Jackson again, Jones said, "Man, please! We already did that…..I've got too much to do. I've got 900 products on my table and I'm 74 years old."
Quincy Jones is alive and well still busy in the music business and serving as an inspiration to all of us. This article is in recognition of Mr. Oko Drammeh's contribution to the promotion and production of African Music and Gambian music in particular over the years.
The month of April is Jazz Appreciation Day and International Jazz Day is on April 30th 2017. We will be at the Alliance Francais to celebrate.
Read Other Articles In Article (Archive)