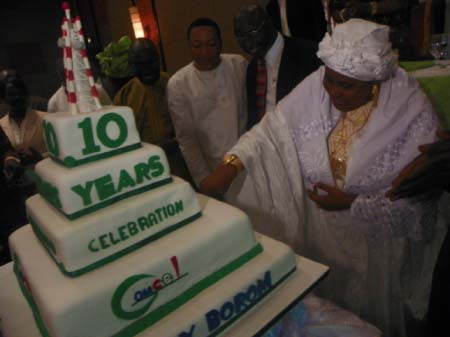 As part of its 10-year anniversary, the national GSM operator, Gamcel, last Friday organised a gala dinner that brought people of all walks of life under one spirit of celebrating excellence in GSM service and products.
Senior government officials including the vice president, Gamcel staff and customers of the company attended the remarkable dinner held at the Sheraton Gambia Hotel in Brufut..
Delivering her speech on behalf of the Gambian leader, Her Excellency the Vice President, Dr Isatou Njie-Saidy, said the celebrations marked an important milestone in the evolution of telecommunications in The Gambia since the coming of the Jammeh administration to power in 1994.
Vice President Njie-Saidy said the government has promised Gambians of development that will not only positively turn around the social and economic status of all citizens and residents of The Gambia, but will also make a big change in the development aspirations of the country into the 21st century.
According to the vice president, telecommunications constitutes a vital component of the developmental aspect of any nation. "The forces of globalisation and the dynamic nature of business requirements have led to the evolution of telecommunications technology at an unprecedented pace, especially at the close of the last millennium. As a result of this fact, my government has not only created an enabling environment in the business and commercial sectors but also encouraged investment in all other sectors of the economy."
In view of its strategic importance, Vice President Njie-Saidy added that telecommunications took a centre stage in the realisation of the ideals of Vision 2020 and other government development blueprints. 
Gamcel general manager Foday Ceesay also praised President Jammeh and his government for giving all the support necessary to the GSM companies, particularly Gamcel.
General Manager Ceesay added that shortly before the introduction of Gamcel, The Gambia had few communications mediums, but that has changed for the better over the years.
As a national GSM operator Gamcel belongs to all Gambians, he affirmed, saying that the company has continued to impact positively on national development, especially in education, health, the environment and sport, to name but a few.
"Gamcel has sponsored over 2000 students (over the years)," GM Ceesay said, adding: "In the area of agriculture, Gamcel has also given ten power tillers to the people in the rural area. In sport, we have been supporting GFA (the Gambia Football Association)."
Ramou Nyassi, Senior Marketing Manager of Gamcel, in her remarks, thanked Gamcel customers for their continued patronage of the company.
She reiterated her company's resolve to do more for The Gambia and Gambians and to satisfying customers of the company at all time.
Read Other Articles In Article (Archive)