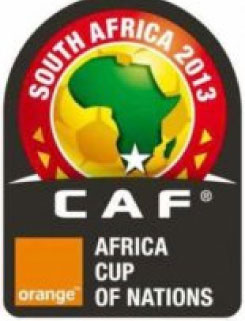 A CAF delegation led by First Vice President Suketu Patel and the Secretary General  Hicham El Amrani is in South Africa (3-9 July) for the Host City Inspection and the final qualifier stage Draw and this has coincided with The Local Organising Committee for the Orange Africa Cup of Nations 2013 marking the 200 Days Countdown to the Orange AFCON 2013 to kick off in South Africa on 19 January 2013, (today 3rd July 2012) with a series of events.
The key event saw the unveiling of the 200 Days Countdown Clock by the South African Minister of Sports and Recreation, Fikile Mbalula and the Chairperson of the Local Organising Committee, Advocate Chief Mwelo Nonkonyane, officially kick starts a series of events that promise to raise Africa to its feet.
The Local Organising Committee Chief Executive Officer, Mvuzo Mbebe revealed that the tournament theme of "The Beat at Africa's Feet" is born out of the creative rationale which is informed by the way African play and celebrate brilliance in football. The theme for the look and feel is informed by the fact that football is like a dance played with the feet to a precision and to a beat that can only be kept by the heartbeat pumped by adrenalin and accompanied by music that is the roar of the fans. Mbebe went on to say that the fact that football is played with feet, and the host, South Africa, lies at feet of Africa and when putting together the two ideas the campaign line took shape both as a call to come down to the vibrant south and celebrate and also as a tribute to the universal dance of the beautiful game.
The draw for the final qualifiers to decide the fifteen teams that will join hosts South Africa in the finals is on Thursday 5th July. Holders Zambia leads the fifteen (15) seeded teams which are: Algeria, Angola, Burkina Faso, Cameroon, Equatorial Guinea, Gabon, Ghana, Guinea, Ivory Coast, Mali, Morocco, Nigeria, Sudan and Tunisia. The unseeded teams are Botswana, Cape Verde Islands, Central African Republic, Democratic Republic of Congo, Ethiopia, Liberia, Libya, Malawi, Mozambique, Niger, Senegal, Sierra Leone, Togo, Uganda and Zimbabwe. 
The winners of fifteen (15) home-and-away second round ties over weekends of Sept 7-9 and Oct 12-14 qualify for 2013 finals between Jan 19-Feb 10 with hosts South Africa. Separate draw will decide which countries play at home first and the seeding is based on results from previous three Cup of Nations tournaments
Read Other Articles In Article (Archive)