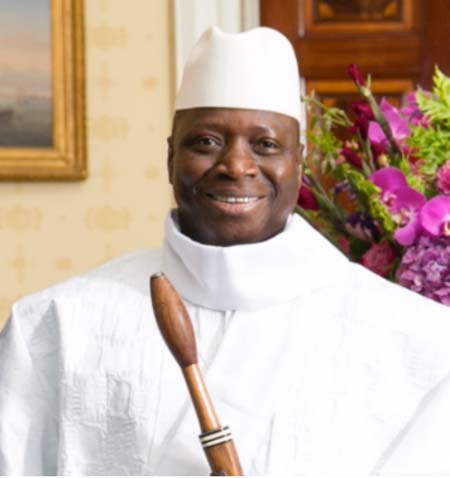 The outgoing Gambian president, Yahya Jammeh, has said that the recent Ecowas summit, where a decision on Gambia was taken, was just a formality because even before the gathering, it was decided that "Jammeh must step down".

"I will not step down," he said. "I have made it very clear that I will not accept the result. They even asked me to leave the country for peace to prevail but I will not leave or go anywhere."
Jammeh accused the West African regional bloc, Ecowas, for interfering into the internal affairs of the country as a sovereign state.
During a meeting with a delegation from the African Bar Association at the State House in Banjul, yesterday, Jammeh said Ecowas action is a violation of the cardinal principle of the country's constitution.
He still maintained that "there were a lot of irregularities discovered during the electoral process" and there were 360,711 voters who did not vote.
He said this is why he decided to take the matter to court, Supreme Court.
In spite of this, in a communiqué at the end of its summit on Saturday, Ecowas leaders said they are to take all necessary actions to enforce the result of the 1st December 2016 elections.
After accepting the result as the will of the Gambian people and called president-elect to congratulate him, outgoing president Jammeh now faulted the process, fairness and result of the election which he initially described as "most transparent and rig-proof".
Jammeh is also calling for fresh election.
But in the Ecowas communiqué, the West African leaders agreed to uphold the result of election, and called on Jammeh to respect it as the will of the Gambian people.
The sub-regional bloc also urged him to refrain from any action likely to compromise the transition and peaceful transfer of power to the president-elect.
However, Jammeh said he will not be intimidated by any power in this world.
"I want to make sure that justice is obtained. I am a man of peace but that doesn't mean that I won't defend myself. I am not a coward," he said. "Nobody can deprive me of that victory except the Almighty Allah."
Read Other Articles In Article (Archive)