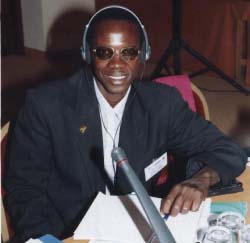 Kawsu Jammeh, the focal person of the Programme of Works on Protected Areas (PoWPA) under the Department of Parks and Wildlife, has said that climate change could pose serious threat to The Gambia's future.
The secretary general of the Gambia Protected Area Network under the Department of Parks and Wildlife Management made these remarks recently in an interview with this reporter at his office in Abuko.
Mr Jammeh, who is also an environmental education officer, said climate change is a global problem and its effects are many and could increase health risks and escalate poverty in developing countries.
The Gambia, he said, is signatory to the United Nations Framework Convention on Climate Change (UNFCC) and has completed the first climate status report on climate change.
"The Gambia has developed a National Adaptation Programme of Action (NAPA) and prioritised climate change resilience to withstand the shock, and this focuses on thematic areas such as adaptability, flexibility, and sustainability of a country. 
He stressed the need for the NAPA document to give priority to the relocation of people living around the coastal areas as a way of mitigating one effect of climate change in The Gambia.
"Climate change is an environmental problem and therefore it needs environmental approaches to combat it," said Mr Jammeh.
He added that climate change has socio-economic impact on the lives of the people, as The Gambia's climate is typically Sahelian with a long dry season from November to May and a short rainy season between June and October.
Gambia is highly vulnerable to any changes to its climate characteristics and it is evidently documented that there is an increase in average minimum monthly temperature by 0.40 degree centigrade over 40 years.
He further said that The Gambia is mainly an agrarian economy and its agriculture sector is mainly subsistence rain-fed agriculture with a self-food sufficiency ratio of about 50%, which generates approximately 40% of the country's total foreign exchange earnings.
Even though the developing countries could contribute the least emission in the atmosphere compared to developed countries, the African continent faces the heaviest climate change consequences, he says.
 Over the past ten years, The Gambia has experienced a number of climate-related natural and manmade calamities, he noted.  "These situations often disrupt lives and livelihoods of the affected populations with resulting loss of life, shelter, clothing and foodstuff thus worsening poverty."
Mr Jammeh noted cases in point when the severe floods in 1999 and 2003 affected up to 13% of the population.
He further recalled the floods in 2002, 2006, 2007 and 2008 all of which negatively impacted on the socio-economic development of the country.
Jammeh stressed that urgent and immediate actions should be identified through the NAPA document to reduce The Gambia's vulnerability to sea-level rise and associated impacts of climate change.
Read Other Articles In Article (Archive)