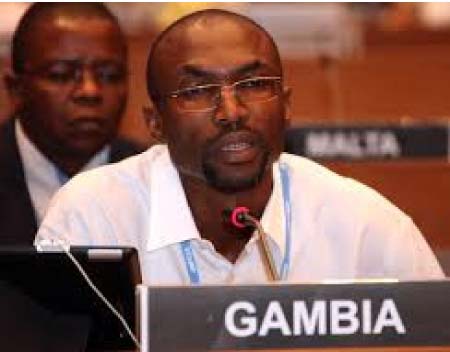 Pa Ousman Jarju as the newest member of the Cabinet was sworn in Wednesday as the minister of the Environment, Climate Change, Water Resources, Parks and Wildlife. Jarju's appointment as minister was announced on Wednesday May 28, and he has a new and expanded portfolio, as the ministry was previously called ministry of the Environment, Parks and Wildlife.
Before becoming a minister, Jarju was director of the department of Water Resources in Banjul, and focal point in the Gambia for UNFCCC, the UN framework convention on climate change.
He was sworn in on the eve of World Environment Day, which this year pays special attention to small islands around the world and the challenges they face to overcome the effects of climate change.
World Environment Day, sometimes referred to as Eco Day, is celebrated June 5th every year with a new theme and focus for environmental change.
Its establishment on June 5th, 1972 by the United Nations General Assembly, set the stage for initiatives to take place around the world for a cleaner, safer, and more eco-friendly environment.
The United Nations has declared 2014 the International Year of Small Island Developing States fitting for this year's World Environment Day theme: Small Islands and Climate Change.
The official slogan "Raise Your Voice Not the Sea Level" carries the importance of achieving a sustainable future for all and prefaces the challenges summed up by the secretary general of the United Nations.
"Small Island Developing States face numerous challenges. For a significant number, their remoteness affects their ability to be part of the global supply chain, increases import costs especially for energy and limits their competitiveness in the tourist industry. Many are increasingly vulnerable to the impacts of climate change from devastating storms to the threat of sea level rise," UN secretary general Ban Ki-moon said in a statement.
Capturing the beauty of the sea and inhabiting some of the world's most diverse species of plants and animals small islands also house over 63 million people.
This year, in its 43rd edition, Barbados, a small Caribbean island nation, is the host country of World Environment Day's leading efforts.
WED run by the United Nations Environment Programme (UNEP) is celebrated globally with several celebrations are going on around the world in honour of the environmental holiday.
"This year, I urge everyone to think about the plight of small island developing states and be inspired in their efforts to tackle climate change, build resilience and work toward a sustainable future. Raise your voice, not the sea level. Planet Earth is the island that we share. Let us join forces to protect her," Ban Ki-moon said in a statement.
India will host next year's WED under the theme "One World, One Environment".
Read Other Articles In Article (Archive)