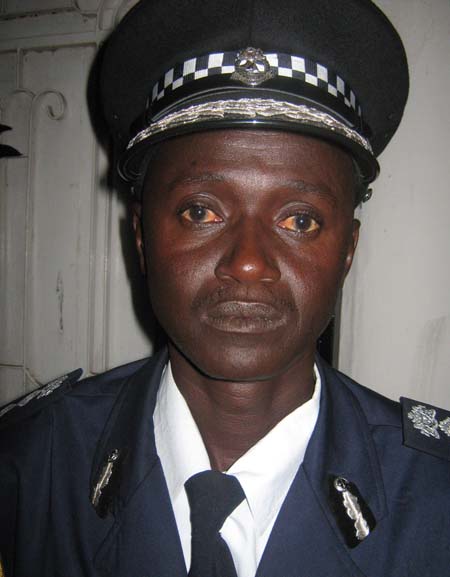 In the ongoing robbery trial involving the former Inspector General Police, Ensa Badjie, and Chief Superintendent of Prison, Ali Ceesay, the first prosecution witness (PW1) Soriba Condeh told the court yesterday that he was convicted by the Bundung Magistrates' Court for escaping from lawful custody. Condeh, who was speaking under cross-examination by defence counsel, concluded his testimony on Thursday.
When it was put to him that, after his conviction by then Magistrate Pa Harry Jammeh, he was also convicted by then Magistrate Moses Richards, Condeh said his conviction by Moses Richards was in respect of escaping from lawful custody.
Defence Counsel BS Touray, in cross examining the witness, further put it to him that he was sentenced to 14 years imprisonment, instead of the10 years he earlier mentioned in court. However, PW1 replied, "I know I am serving a 10-year jail term."
When asked by BS Touray whether PW1 would recognise Langaman, Salieu Baldeh and his other colleagues in a photograph, he replied in the affirmative. Condeh was later shown a photograph and recognised only Omar Touray, Muhammad Camara, Mam Biran Gaye, Ansuman Camara, Amadou Jallow, and Malick Sarge.
At this juncture, defence counsel Touary applied to tender the said pictures of the mentioned person as identification exhibits, which were admitted by the trial judge without any objections from the prosecution.
Condeh told the court that nobody has visited him in prison, since he was convicted. When it was put to him that the 2nd accused is a senior prison officer at Mile 2 Prison, PW1 replied "yes".
He said his experience, since his imprisonment, is that both senior and junior prison officers escort prisoners to the visiting room. This was when it was put to him by defence counsel that it is not the function of a senior officer to escort prisoners from the detention centre to the visiting room.
Condeh also insisted that it was the 1st accused person, Ensa Badjie, who insulted him at the prison when he (Condeh) asked him to take out the monies they stole. This was when it was put to him by defence counsel BS Touray that he insulted the 1st accused in Mile 2.
"Because of your attitude of abusing the 1st accused, the security officers gave your complaint to the 2nd accused," the counsel said, but Condeh responded that nobody reported him to the prison staff, and that the 1st accused gave monies to them to destroy his case.
He adduced that the 2nd accused is in charge of the prison kitchen, and so he cannot warn them.
"The 1st and 2nd accused are related, that was why the 2nd accused was persuading me," Condeh said. This was in response to a question put to him by BS Touray, who said he (Condeh) did not like it, when cautioned by the 2nd accused, and that was why he lied against him at the NIA.
He added that the 2nd accused was after him since 2007, so that he (Condeh) could stay away from this case, noting that the 2nd accused even gave him a towel so that he can stay away from this case. "I have this towel with me at Mile 2 Prison," said Condeh.
When put to him by defence counsel that he told Dodou Janneh, alias Dodou Boy that if he lied against the 1st accused he would be given a presidential pardon, Condeh responded, "Am I the government?"
He admitted knowing that Dodou Janneh is serving sentence at Mile 2.
"Do you know that Dodou Janneh was convicted for murder?" counsel asked, and Condeh, in reply said that he is serving his own sentence, and does not know about that of Dodou Boy.
At this stage, DDPP M. Abdullahi rose and re-examined the witness.
Meanwhile, the prosecution called its 2nd witness, Momodou Sillah, who is a police officer, attached to the Serious Crime Unit at police headquarters.
PW2 Momodou Sillah testifying told the court that he obtained both cautionary and voluntary statements from Ensa Badjie on 9th April 2010 in the presence of an independent witness.
The cautionary statement was admitted by the court and marked as an exhibit following the prosecution's request, without any objections from the defence counsel.
The witness also told the court that he obtained four voluntary statements from Ensa Badjie, which were collectively admitted and marked as exhibits without any objections from B.S. Touary. The same applies to another cautionary statement obtained on 26 April 2010 from the 1st accused person.
Mr. Sillah further testified that on 12th May 2010, he obtained a cautionary statement from the 2nd accused, Ali Ceesay, which was also marked as an exhibit by the court.
The case was subsequently adjourned to 12 July 2010 for continuation of hearing.  
It would be recalled that Ensa Badjie and Superintendent of Prison Ali Ceesay were arraigned at the special criminal court, after being indicted on different counts, including conspiracy to commit a felony, robbery with violence, receiving stolen property, aiding and abetting, robbery, conspiracy to commit misdemeanour, aiding prisoner to escape, official corruption, conspiracy to defeat justice and interference with witnesses, deceiving witnesses, offences relating to judicial proceeding, and using criminal charms, among others.
Read Other Articles In Article (Archive)