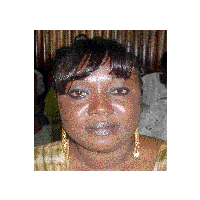 Magistrate Lamin George of the Banjul Magistrates' Court had set
23rd January 2009
as the date he is expected to deliver Judgement on the criminal case involving Oley Sey and Abdou Rahman Bah.
This development followed almost five months of trial, which saw the prosecution putting in four witnesses in trying to prove their case and also the accused persons putting in their defence.
In his final address to the court, the 2nd accused, Abdou Rahman Bah, submitted that all he said in court was exactly what transpired between him and Oley Sey. He said Oley Sey surrended D200,000 at the NIA being part of the D400,000 that was in her possession. He submitted further that he told the court the convincing reasons that led him to give D500,000 to Oley Sey, but he did not mention it at the NIA because he expected that Oley Sey would surrender her remaining D200,000.
Mr Bah further submitted that both Pw1 and Dw1 told the court that Oley Sey denied of any knowledge of the money when confronted. He said it was only when defence witness, one Madi Jatta, told them at the Department of State for Basic Education that the chief of Protocol said he will send a security personnel to pick them that was the time Oley Sey said she had D200,000 in her car. He said Oley's statement that he gave her D200,000 for save keeping was false as there was no witness or receipt to prove that assertion. He added that Oley Sey used her political influence to deceive him.
It will be recalled that Oley Sey and Abdou Rahman Bah are standing trial at the Banjul Magistrates' Court on charges of conspiracy to commit a felony and theft. It was alleged that on 29th July 2008, they conspired and stole the sum of D500,000 meant for JamesJunkungJammehMemorialNursery School in Abuko.
Read Other Articles In Article (Archive)