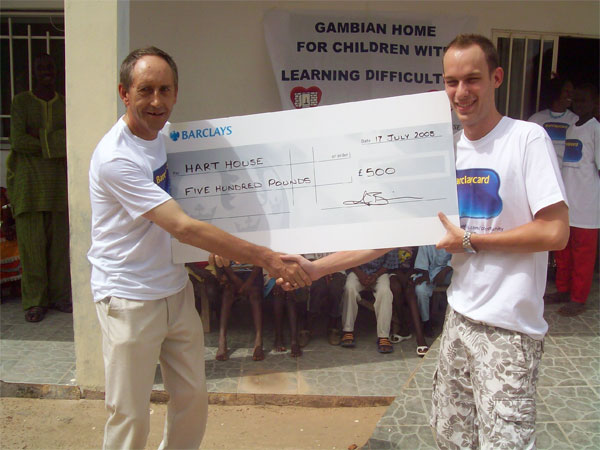 Barclaycard, one of the UK's leading credit card companies, yesterday donated a good sum of money to Hart House at Sinchu Alhajie in Kombo North.
Robert Brise, a member of staff at Barclaycard, donated £500 to Geoff Hunwicks the chief executive officer of the Gambian Home for Children with Learning Difficulties on behalf of his group.
Robert Brise arrived this week to deliver the money raised through several events organised by himself and other team members at Barclaycard in the UK.
Robert said they chose Hart School for Children with Learning Difficulties after reading about the respite care and education programme they offer. "The lack of resources and funding make it a constant struggle for Hart House to meet the demands of the children who stay there. At times there can be up to 16 children there at any one time all with weekly overnight care facilities for families with a disabled child to get respite," he added.
 He further said that employees strive to raise funds throughout the year for numerous projects not only in the UK but all around the world.
Robert observed that the running and upkeep of Hart House is a constant challenge for Geoff and Rohey Hunwicks, the founders. "Since Hart House is ongoing there is a need for donations to continue as the service it offers is free of charge to Gambian children. Barclays Bank UK wishes them every success in maintaining the service and care they offer," he said.
Geoff Hunwicks expressed appreciation and thanked Robert Brise, Barclaycard and his team. "We need more people to see reason and help these kids they deserve it," he said. He finally informed all those gathered that the Hart House website is www.harthouse.org.  
Read Other Articles In Article (Archive)