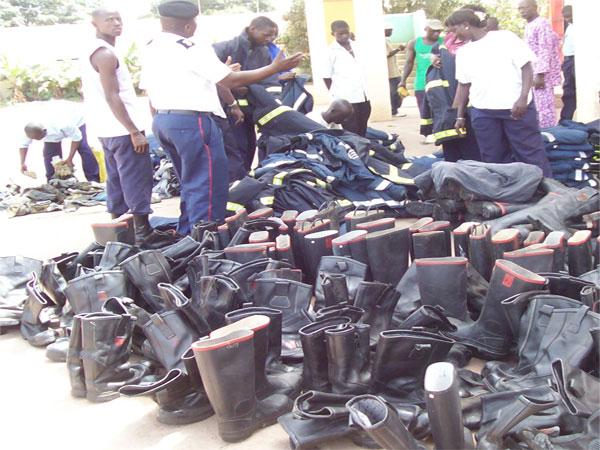 Janor Group, based in UK and Gambia and dealing in financial services, freight forwarding and recruitment, yesterday donated a large consignment of assorted fire fighting items to the Fire Service at their office at Bundung.
Sulaiman Joof the CEO of Janor Group said, they gave eighty cartons of protective clothing, including boots, gloves, helmets, fireproof jackets and trousers to the Fire Service at Churchill's Town.
According to Sulaiman Joof, the CEO, this was the first gesture of its kind and they have the potential to continue the gesture. In handing over the fire fighting items to Sang Ndow, Divisional Fire Commander, Mr. Joof said as a Freight Forwarder, he had spoken to the Birmingham Fire Service to help his people in The Gambia. "I am therefore passing on to the Fire Service."
Sang Ndow, Divisional Fire Commander expressed delight in receiving such items and said if all Gambians were to emulate Janor Group then their fire service would serve the community efficiently. He lamented that some people even attack fire fighters to impede their job.
Sulaiman Joof says, "We started in 2006, as freight forwarding and recruiting. In The Gambia we are diversifying, we do financial services from United Kingdom, America and Spain. With the freight it is the whole world." Asking Mr. Joof what prompted his help for society he said, "There is a saying - Do not ask what your country can do for you but rather ask what you can do for your country."  Comparing UK and The Gambia, he said the people support fire service in the UK and in The Gambia it is the government that supports it entirely. By such help we are helping to reduce the risk. He said.
He further said that the business sector has the corporate responsibility to give back part of their proceeds to their communities. His business partner, Ebrima Faal said they are duty bound to give part of their profit to the country to supplement government efforts. Recounting their constraints Mr. Taal says, "We face difficulties in clearing these items even when they know they are for gifts to serve our community. At times we face real difficulties at the customs, they don't care what and for who one is bringing in these things. As we continue to bring gifts for The Gambia we hope that provision would be amended to let us bring more. He invited investors to come counting on the peace that is prevailing under President Jammeh.
Read Other Articles In Article (Archive)