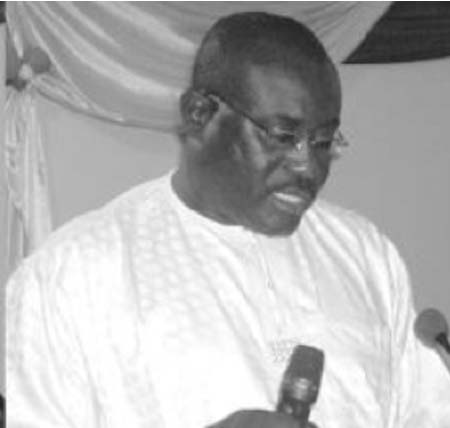 GAMWORKS Director General Ebrima Cham has said the enhancing Value Addition in the Groundnut Sector Project, commonly referred to as the GCC Groundnut Project, is a US$30 million IDB project to modernize, expand and enhance efficiency of the operations of the Gambia Groundnut Corporation (GGC).
Delivering his report at the GAMWORKS AGM held recently, Mr Cham said the components of the project included improving groundnut river transport system, improving groundnut storage and handling infrastructure, groundnut shell waste management, technical assistance for supporting groundnut value chain, improving quality testing systems, project management and supervision costs, and financial audit.
He added that the financing agreements were approved by the IDB Executive Board of directors in July 2012, but it was only signed in April 2013, and the project became effective in August 2013.
The Gamworks boss said a tripartite agreement had been signed between the Ministry of Finance and Economic Affairs, GGC and GAMWORKS for the implementation of the project.
He also stated that GAMWORKS is responsible for the implementation and day-to-day administration of the project.
Mr Cham further said the one-year delay in project effectiveness and problematic procurement modes in the financing agreement have put additional challenges on an already complex project.
However, achievements had been registered so far, he said, adding that a project steering committee had been constituted which held its inaugural meeting at GAMWORKS, as well as a project technical review committee set up for the technical studies component.
"The processes for the recruitment of the design and supervision consultant, the technical studies consultant and the external audit for the project are ongoing," he said.
A 5NO.80KVA diesel generator for GGC had already been procured and the procurement of US$7milion worth of goods and equipment for GGC, such as a tug boat and barges, conveyors systems, an electronic weight bridge, tractors and compact skids-loader are underway, he added.
The GGC Groundnut Project would significantly modernize and expand the assets of the GGC, Mr Cham said.
In addition, he continued, the recommendation of the technical studies to be undertaken under the project, if implemented, would bring improvement in groundnut production and more efficiency in GGC operations.
Read Other Articles In Article (Archive)