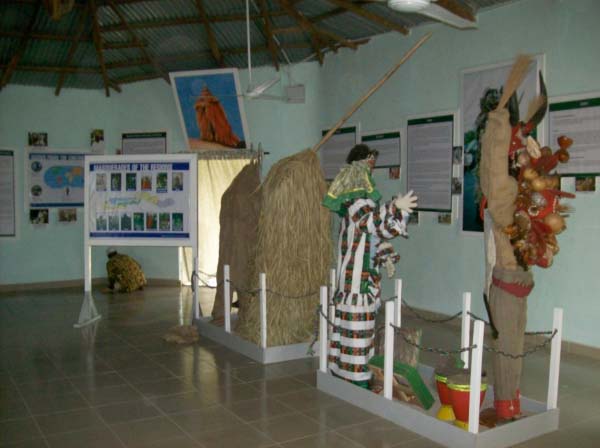 The museum in Janjanbureh village is now fully and finally done as the artefacts are mounted for exhibition, the director of cultural heritage at the National Centre for Arts and Culture (NCAC) has said.
Consequently, Hassoum Ceesay said the official opening will be staged very soon.In terms of exhibition, the museum is divided into sections.One of the main sections is on kankurang and other traditional Gambian masks such as 'kumpo', 'samayoo', and 'zimba'.
Another section talks about different traditions of the world including Africa.The most famous mask of each continent has been depicted and included it in the exhibition.
Mr Ceesay said their expectation is that the museum will serve as attraction for visitors to the Island which is already known to be a historic place.
Already, Janjanbureh has some historical colonial institutions like Amitage School, the Freedom Triangle and the colonial graveyard.
"The kankurang centre is to add another cultural attraction to Janjanbureh," Mr Ceesay said.
He also explained that the centre has an educational dimension as the exhibition has been designed in such a way that school children, researchers or students in the higher educational system will find it very useful.
"The exhibition has a lot of text explaining the various aspects of masquerades in Africa, not only Gambia," he said while assuring the general public that they will find the centre very useful.
He affirmed that people should endeavour to visit the centre for they will discover interesting cultural practices that they used to take for granted.
"Some of us Gambians think that we know our culture but I want to assure the public that however much they may know about the masquerade tradition in The Gambia, especially the kankurang, when they visit the centre, they will learn many new things," Mr Ceesay said.
Demba Y Baldeh, senior and museum monument officer, said the exhibition has not only covered masquerades in The Gambia but Africa and the entire world.
He said they looked at the kankurang in general; what is the essence of the kankurang, how it came about, types of kankurang and which type is famous in the region.
"We also looked into the changes that are happening as a result of either deforestation or globalisation which is causing the lack of materials to dress up masquerades like the kankurang," he said."Nowadays, kankurangs are made of empty bags of rice or onions which signify that the materials are either fading or they are been modified."
Mr Baldeh called on all and sundry to visit the Janjanbureh museum to get all the information and well researched exhibition on kankurang and any other masquerade in The Gambia and Africa as a whole.
Read Other Articles In Article (Archive)