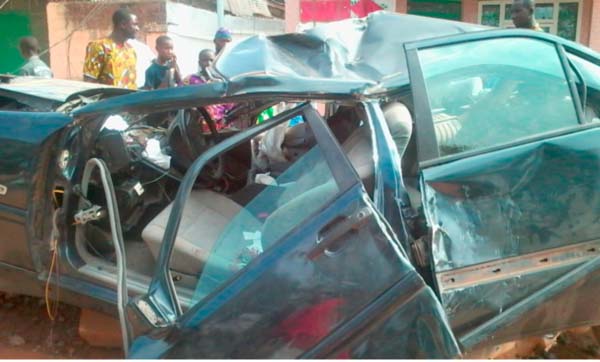 A fatal car accident in the early hours of yesterday morning at the junction around the former office of the Independent Electoral Commission on Kairaba Avenue left two dead and two others inacritical condition, who are hospitalised at the EFSTH in Banjul.
According to eyewitnesses, the car involved in the accident was coming from the Traffic Lights end and upon reaching at the junction around the former IEC it entered a hole, and lost control because the driver was reportedly over-speeding.
The car then somersaulted hitting the NAWEC electric pole and stopped in front of the LG office.
The eyewitness account further stated that the driver and the passenger in front of the car died on the spot, and for the two others at the back seat, one of them had the legs mutilated and the other sustained serious injuries.
The fire service was informed of the accident and they came with their tools, because they had to cut parts of the car to get the victims out.
They victims were taken to the EFSTH in Banjul, the eyewitness said.
When contacted, the Police public relations officer, ASP Lamin Njie, confirmed the accident.
Njie said it happened in the early hours of the morning at 4:20a.m. when the Mercedes Benz 200 C Class left the Traffic Lights end heading to Westfield.
According to their investigation, the driver must have been over-speeding, he said, and lost control at the point of the junction on Kairaba Avenue and then hit an electric pole.
He said the driver and the passenger in the front seat died instantly, and the others sitting at the back seat were rushed to the hospital, believed to be in a critical condition.
Read Other Articles In Article (Archive)