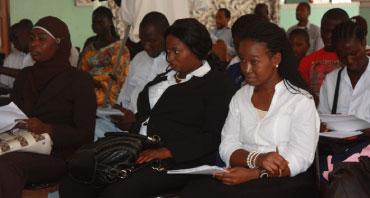 A day-long intergenerational forum on adolescent issues was yesterday convened by the UNICEF Banjul office in collaboration with the Gambia government as part of events making today's launching of the 'State of World's Children Report' 2011.
Held at the Friendship Hotel in Bakau, the forum brought together officials from UNICEF, Gambia government, young people, as well as students from different schools.
It was, among others, geared towards addressing issues affecting young people in The Gambia, as well as map out strategies that will sustainably guide them to become productive in life.
It also served as a platform to highlight issues affecting young people in The Gambia, and to come up with recommendations on the way forward.
Speaking at the forum, Jenieri Sagnia, a UNICEF educational specialist, said that research shows that millions of adolescents today do not enjoy access to quality education; basic, sexual and reproductive health care; support for mental health issues and disability; forums for active participation; and protection from violence, abuse and exploitation.
"An estimated 150 million children age 5- 14 are currently engaged in child labour, with the highest incidence in sub-Saharan Africa; and at any given moment, more than 1 million children are in detention by law enforcement officials," Sagnia added.
Mr. Sagnia also stated that coupled with many challenges, adolescents are faced with external influence and challenges, some of which often lead to risk taking and abuse of substances.
He noted that adolescents also face a unique set of collective global challenges, including the economic crisis; high unemployment rate among young people; climate change; rapid urbanization; humanitarian disasters; and conflict, while some are targeted for recruitment by military groups for various tasks including to kill or serve as sexual slaves in many cases.
He added that with these global challenges expected to intensify over a decade or so, adolescents will have to be given the necessary knowledge and skills for them to effectively cope with the impact.
Saikou Toure permanent secretary at the ministry of Health and Social Welfare on behalf of the minister of Health described the theme of this year's report as a key issue in which the Government of The Gambia and thehealth ministry engage young people, and will continue to be the engine of growth and prosperity of The Gambia.
"In line with government's stated policy, we are investing in our young people for sustainable development in order for the country to have a viable future.
Without well-educated, highly skilled, healthy and patriotic youths dedicated to serving the nation and taking their citizenship seriously, The Gambia will find it hard to achieve its long term goal as outlined in Vision 2020," PS Toure told the gathering.
He said the Gambia government has crafted a comprehensive framework for youth development with the goals of empowering young people to be able to harness their potential for self-fulfillment and responsible citizenship through their active participation.
Malang Jassey, Director of Youth and Sports at the ministry of Youth and Sports, underscored the importance government attaches to youth empowerment and development, noting that his ministry believes in partnership, and that their partnership with UNICEF has borne fruit.
Read Other Articles In Article (Archive)