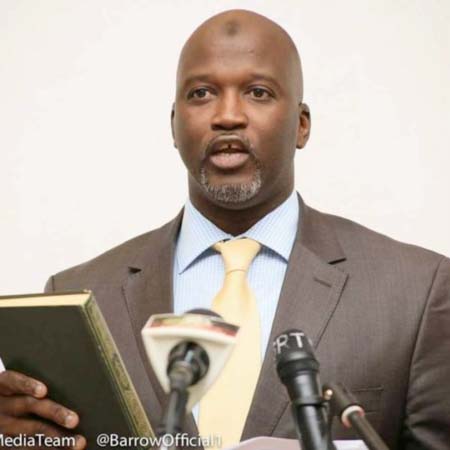 The human rights violations allegedly perpetrated by Yahya Jammeh were not done by him alone but with the help of his loyalists, who are also citizens of this country, the justice minister said.

"Therefore, in the situation that we are, the victims, but also the perpetrators, should confess so that there will be reconciliation and a better Gambia," Justice Minister Abubacarr Tambadou said at meetings in Central River and Upper River regions.
It was a meeting of the Truth, Reconciliation and Reparations Commission (TRRC) taskforce with the respective communities as part of a nationwide tour to enlighten people about the proposed commission.
The taskforce comprises civil society organisations, Ministry of Justice, the United Nations Development Programme and other relevant stakeholders. It engages the people on how the TRRC would properly dispense justice for the violations and abuses of the Yahya Jammeh-government.
"The commission is to be established to serve as a healing centre for the victims and loyalists that committed crimes and atrocities to come forward to lodge their complaints because from that recommendation and observation would be made for the commission to do its work," the minister said.
"The people who committed those inhumane crimes for Jammeh, it will be difficult for them to accept but if they do not then the law shall intervene."
Minister Tambedou said the previous government was involved in numerous human rights violations such as detention without trial, disappearance without trace, torture among others.
The Lady Governor of Basse Fatou Jammeh-Touray said she had been informed that had Jammeh won the December 2016 election, she would be killed as her name was part of the 'black book' of the former government.
The governor said some of the alleged perpetrators of Jammeh-government crimes are undermining the setup of the commission.
"The formation of the commission should be fast-tracked to deal with matters as required," she said.
Namory Trawally of the Gambia Press Union said he, as a journalist, is also a victim of Jammeh's regime because the newspaper he was working for, 'The Independent', was in April 2004 stormed by unknown state agents with guns who burnt their newspaper printing machine worth D1,200,000. People like him, he said, were tortured in the process.
Binta Jammeh-Sidibeh, executive director of Women Bureau, said the TRRC is in fulfillment of the campaign promise of the coalition government to set a commission that will solve all the human rights violations caused by the Jammeh government.
Read Other Articles In Article (Archive)