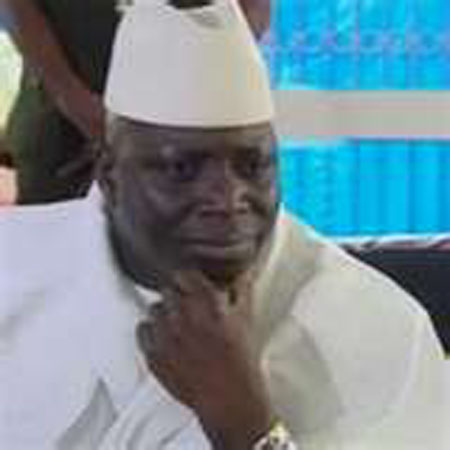 In yet another instance of tough-talking, President Yahya Jammeh has vowed that by the middle of next month (September), all the death sentences would have been carried out to the letter, though he did not give the exact figure of those currently on death row.
Jammeh, who was speaking in his address to the nation to mark this year's Muslim holy feast of Eid-ul Fitr, said the security forces and the judiciary will continue to be empowered to enforce the law where applicable, and that all those guilty of serious crimes and are condemned will face the full force of the law.
"All punishments prescribed by law will be maintained in the country to ensure that criminals get what they deserve; that is, that those who kill are killed, and those who deserve to be put away from society are put away according to the dictates of the law," he said.
According to Jammeh, Gambians have witnessed in recent times an undesirable and unwarranted escalation of such crimes like murder, armed robbery, burglary, and alarmingly, kidnapping, to cite a few examples.
These, he said, are crimes that were hitherto unknown in The Gambia, but they have found their way into Gambian society.
While stating that these acts are perpetrated by non-Gambians, Jammeh said Gambians have either been accomplices or have also engaged in these dreadful crimes.
In his view, there are increasing episodes of infanticide as well as homicide committed by husbands against their wives, and children against their parents.
He added that these are heinous crimes and are wholly unacceptable, especially in a nation where over 90% of the population claim to be practising Muslims and believers in the Almighty Allah.
"My government will never condone acts that endanger the fabric of our society or thwart the people's development efforts. Our objective is to create a peaceful, happy and crime-free nation, where the standard of living will be excellent for the citizenry," he said, adding that banditry, drug trafficking or its illicit use, homosexuality, murder, terrorism and other subversive activities against either the state or the people will not be tolerated.
The Gambian leader warned that his government will take whatever legal action is necessary to expunge these deadly and heinous acts from the country.
He called on Gambians to not only abide by the laws of the land, but also compel the criminals in our midst to retract permanently or amend their ways, noting that there is no other option.
President Jammeh further stated that Gambians need not look far into history to be forewarned of the consequences of anarchy; the breakdown of law and order and the resultant atrocities in Mali, Syria, Somalia and other countries are examples that provide sufficient instruction to remind us that crime begets chaos, destruction and destitution and, in consequence, should be nipped in the bud whenever it emerges.
As true Muslims, he said, we should work together for each other, and not against each other.
He stated that this year's feast presents the opportunity to mention regrettably, the division among Muslim communities, both nationally and internationally.
He said it is due to the artificial divide among Muslims that Islam is projected negatively in the non-Muslim world.
"It is for the same reason that Muslims are weakened to the extent that their rights are trampled upon and their wealth and property plundered. It is a dilemma and a source of concern that Muslims cannot rally behind their leaders and obey them.
"Sadly, every year, we begin fasting on different dates and observe Eid-ul Fitr on different dates, yet Allah is the one true God we worship; the Quran is the source of our faith; the Prophet's message (PBUH) is universal and conclusive; and the earth is associated with only one moon unlike other planets," he said, adding that there is no justification for unnecessary division within the Islamic world.
The Gambian leader also used the occasion to urge all religious leaders to set aside their differences and act as members of one religious body, stressing that the Quran warns against division, hence we should pay heed.
He stated that as one nation, our salvation as Gambians lies in literally constructing the nation we wish for ourselves, and working selflessly in harmony and in the best interest of everyone.
Read Other Articles In Article (Archive)