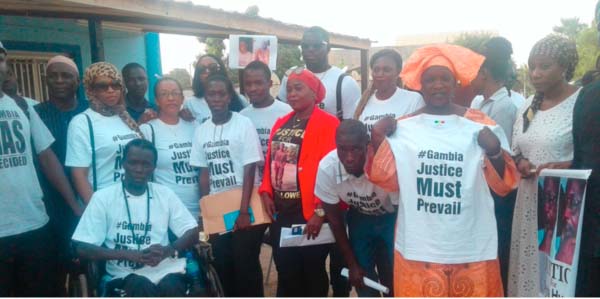 Family members of victims of the Yahya Jammeh government have come out to speak of their ordeal, as they are still recovering from the shock of what has happened to their loved ones.

At an event held yesterday in Kotu, a lot of family members narrated what happened to their loved ones, most of whom are deceased.
Under the hashtag #Gambiajusticemustprevail, the Committee for the Victims of Jammeh's Atrocities, as the movement is called which organized the event, made the following demands, in the statement read out to the public:
The immediate arrest and detention of all Junglars and NIA agents implicated in the murder and disappearance of the sons and daughters of the beloved Gambia; the payment of reparations to the survivors and victims of April 10 & 11, 2000 and the families of the disappeared or presumed dead; to the reinvestigation of the paramilitary soldiers that opened fire at the students; an immediate identification and release of all the dead bodies or their remains to the families for proper burial and closure; an immediate freeze of the assets of Jammeh and his enablers; that no bail be granted to the implicated Junglars and NIA agents; and, the Government designates a liaison with the committee to facilitate prompt communication on all issues or investigations affecting the victims.
In his remarks, Malleh Jagne, a brother to a victim, Njaga Jagne, explained the ordeal his family is still going through, especially his mother who is still crying and asking for his son, and wants to know exactly what happened to him, as well as the family members and children of Njaga Jagne.
"We are really heartbroken, but we must take heart and stand firm together and see how best we the affected families can bring Jammeh back to the country to face justice, because he made us suffer a lot and that shouldn't go in vain without him been brought to book," Jagne said.
Mamie Ceesay also spoke, being mother to the two Gambian-American citizens namely, Alhagie Mamut Ceesay and Ebou who came to The Gambia to invest, were arrested, and since then she has not heard from them, which makes her believe that they were killed.
The mother of the two victims spoke with a heavy heart, saying she would never forget her two children, and that it took her months before she could become her true self again.
She said: "I want justice for my children, as well as justice for other victims of Jammeh's atrocities; and we want him here in The Gambia for him to come back and face us, the families of the victims, and tell us why he did what he did to us; and where they are buried so we can give them a proper burial.
"We also want him to pay for all his misdeeds, and let him be in the Mile 2 prison he called his five-star hotel for him to see and enjoy that hotel too."
Muhammeh Sandeng, son to the late Solo Sandeng, also narrated how his family had suffered since the disappearance of his dad.
He said his dad has eight children and, since they heard the news that he was killed, decided to flee to Senegal with their mother for their safety.
"We suffered a lot during that period, and while in Senegal we had food and where to sleep but no mattresses to sleep on, as my sister used to sleep on the bare floor," he said, adding that "before we were able to secure a few mattresses, life was really difficult for us."
He continued: "I was about to be admitted into university when the incident happened; now I have abandoned my schooling, as I left with my family for exile."
Muhammeh said the family wants justice, and the government should act on that soonest and try to help victimised and affected family members under the Jammeh regime.
Other family members also spoke, saying it is not only Jammeh who is needed, but some of his soldiers, the likes of Ello Jallow and co, who played an active part in the alleged torturing and killing of people.
The rest of the stories of some of the victims will be featured in our Monday publication.
Read Other Articles In Article (Archive)