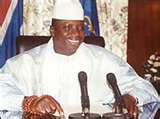 The controversy surrounding the long-standing religious problems facing Muslims elders in Banjul would soon be laid to rest, if the latest pronouncement by President Jammeh is anything to go by.
Jammeh last Sunday told Muslims elders in Banjul, who paid a courtesy call on him as part of this year's Koriteh feast that the government of The Gambia recognises Banjul Muslims Elders as the only Islamic authority in Banjul.
Muslims elders in the country, notably in Banjul are reported to have long-standing problems among themselves.
According to President Jammeh, there is only one council in Banjul (the Banjul Council of Muslim Elders), which has since colonial days been in existence. He noted that it is the only recognised authority that can appoint anybody to the position of imamship in Banjul.
"There are people who want to bring problems in Banjul because of religion. If you see that I told you the Banjul Muslim elders to keep away from it, is because the government of The Gambia recognises the Banjul Muslims Elders as the only Islamic authority in Banjul and no other group", Jammeh told the gathering. "Other than that", he stated, "the rest is non-sense".
"I swear that I will set an example in this country and see what the West can do about it", he said.
For him, there are people who are interested in becoming imams only to enrich themselves but not for the sake of Islam. Even if they are imams, Jammeh added, "God will not give them that money because God only pays according to what is in one's heart".
"There is a particular group that wants to bring problems in Banjul, writing dirty letters and copying it to us telling us that they are ready to die. If anyone wants to die, he or she will meet Yahya Jammeh here, I am more prepared to die because if anyone wants to remove the peace and stability in this country, I will cut-off your head", President Jammeh was quoted as saying.
Jammeh said the West must 'think crazy" if they can wage wars against countries in the East, and expect him to allow trouble-makers in the country.
"What I want to make very clear to everybody here in The Gambia and those so-called human rights campaigners or whatever is that if the West can find it necessary to wage wars against countries in the East, thousands of miles away from the West in order to secure the West and expect me to allow trouble-makers to destabilise my country, I think they are crazy", he stated.
He said those who want to listen to the West and think that they will be defended by those so-called human rights campaigners must be fooling themselves.
"If you want to destabilise this country and bring trouble and suffering for my people, I will make sure that you are dead and let me see what anybody can do. I will deal with you in an appropriate manner to ensure peace and stability and the West can go to hell", Jammeh added.
He said the peace, stability and the security of this country would never be compromised for, as he put it, nobody is paying for our development.
"If we have problems, nobody care about us as Africans. I care about Africa, I care about my country and I want it to move forward. If you are a trouble-maker, keep away from my country. If you are anti-development, move out of this country or be a peaceful person. As long as you are peaceful, we have no business with you," he concluded.
Read Other Articles In Article (Archive)