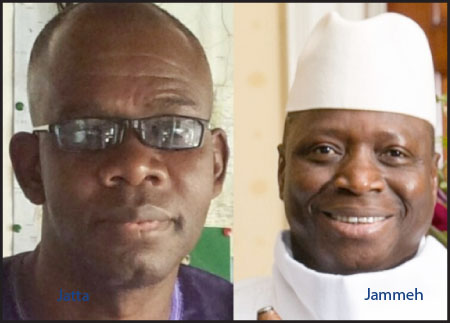 Former President Yahya Jammeh who is currently in exile in Equatorial Guinea says the proposed protest by the APRC is to demand the implementation of the agreement he signed with UN, ECOWAS and AU about a possible return to The Gambia.

He said some people ask as when he (Jammeh) is coming back. However, he added if anybody wants to know when he (Jammeh) is coming back to the country, they should ask GRTS to play his last statement when he spoke to President Barrow. "I told Gambians how long I will be out and when I will be returning, by the grace of Almighty Allah I will be coming back."
"On the issue of the planned protest demanding for the respect of a joint communiqué with the UN, AU, ECOWAS and the government; I don't want any violence and I don't want anybody to touch anything or to destroy anything," Jammeh told his supporters in a leaked audio.
He was speaking to APRC's deputy leader, Rambo Jatta, in a conversation on Saturday. The protest, he said, is to meet the authorities and inform them that the agreement must be implemented. "I don't want any violence and I don't want any destruction of anything and I don't want any insult," he advised his supporters.
Insults, he added, are a curse to any organisation or a country. "Any country where there is no discipline and people are insulting each other; those people will suffer more because the Almighty Allah doesn't want us to be insulting each other."
In his 45 minutes conversation with Jatta, ex- President Yahya Jammeh also seized the opportunity to wish the entire APRC executive and party supporters in The Gambia and the Diaspora a happy new year.
The march pass, he said is to demand for the implementation of the joint communiqué that was signed with the different entities. He warned that anybody who wants to infiltrate their ranks and try to create problem will pay the price.
"If you are a trouble maker, don't go anywhere near us because we are not out for trouble and we are not going to create trouble. But if trouble comes to us; then you can defend yourself at any cost. We are not therefore anything but just to ask the government that what has been signed must be implemented," he clarified.
"I'm very grateful to each and every one of you both inside and outside The Gambia for standing up for the APRC and for standing up for the truth and for the discipline you have always exhibited based on my advice."
"At no time should the APRC be involved or instigate violence, but if violence is directed to APRC you have right to defend yourself in any way and to any extent. But I don't want any member of the APRC to be indiscipline or be involved in issues. I have heard so many insults directed to APRC supporters," he stated.
He said as Muslims we are supposed to follow the Sunnah of Prophet Muhammed (SAW) and his ways of life.
"Let me make it very clear that the APRC will not go for a coalition or alliance with anybody whose hands are not clean. In fact, we don't need any alliance with any party because we're a party of discipline and we can't bring unruly people in our midst to do bad thing."
Read Other Articles In Article (Archive)