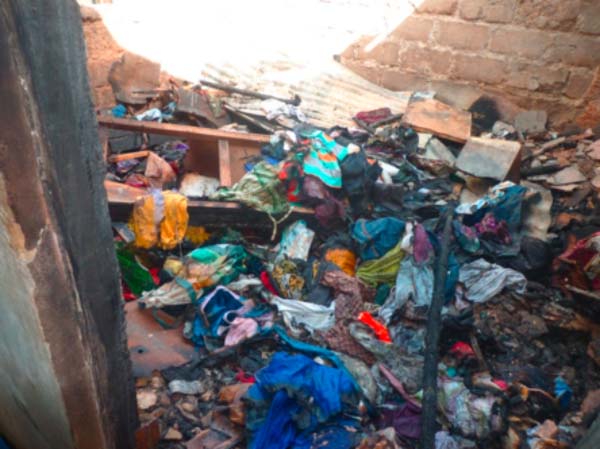 Sources have informed The Point that a four-apartment house, including the rooms of one Ebrima Sawaneh, a senior administrative officer at the Brikama Area Council (BAC), was ravaged by a fire outbreak.
This sad incident occurred on Tuesday between 2 and 3 pm at Nema-kunku and the cause of the fire is still unknown, though electrical failure is suspected to be the cause, according the some residents of the house.
When contacted, Ebrima Sawaneh, who narrated in a rather desperate manner, said he was at work at the time of the incident and it was the wife of his elder brother, Mrs Mbayam Sarr, who called to inform him of the incident.
"I was completely devastated and could not believe what I saw upon arriving at the scene. My entire household was burnt to ashes," Mr Sawaneh narrated.
According to him, at the time of the fire outbreak, his wife, who was at home, went to serve food to two of his sisters who came for a visit from the village in nearby compound.
He said some neighbours later detected smoke from his house, who then alerted the people in the compound and the fire rescue services were called to the scene.
He thanked them for their efforts, including the fire services.
He said some of the items burnt were a flat screen TV (sharp ), one sharp 21 TV , two furniture sets, wardrobe, HD receiver, dining table, two beds, clothing, cupboard, cooking utensils, two radio cassette players and relevant documents.
Mr Sawaneh said although it was very painful, he would thank the Almighty Allah, as there was no human casualty.
"I have received overwhelming support and solidarity since the incident happened on Tuesday," he said, while thanking his neighbours, as well as the fire rescue services and the BAC management, including the chairman, CEO, director of finance, the principal administrative officer and the entire staff.
He also thanked the Sawaneh Kunda family and relatives in Kombo and Pinyai for their support.
Mr Sawaneh is presently hosted at a family compound in Nema-kunku and anyone wishing to help him can call the following numbers: 9953010/ 7788178 / 3579886/6653012.
When contacted, the landlord of the burnt house, Kaw Jabbi, said at the time of the incident he was out of the compound.
Mr Jabbi said he spent a lot of money last year to build the house, which had been destroyed by the inferno.
He also thanked the Almighty Allah since there was no life lost to the inferno, except for valuable items and belongings. 
Read Other Articles In Article (Archive)