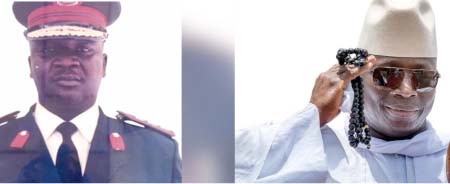 Former Chief of Defence Staff Baboucarr Jatta has alleged that a Yahya Jammeh killed more soldiers than civilians. He added that promotion in the army during the time of Yahya Jammeh, as the commander-in-chief of Gambia Armed Forces was entirely based on 'nepotism.'

Col. Jatta was speaking recently during his rare interview on popular 'Coffee Time' aired on West Coast Radio.
"I believe if Jammeh had gone through certain process, he would have understood the command and control better. I can tell you that Jammeh killed more soldiers than civilians, but you never heard soldiers talking about it. This is because there's discipline in the army," he said.
Col. Jatta was reacting to allegations levelled against him by Lt. Landing Sanneh, former State Guard Commander. He added: "If Essa Faal, TRRC's lead counsel was talking to me on matters of policies during my testimonies at the Truth Commission, he (Essa Faal) would have enjoyed me, but Essa Faal was not briefed properly."
"How can you give a rank to a general who can't read and write? How can you give a major rank to someone because somebody was able to do 50 push-ups? In fact, in the army it was even said; it's scratch and win. The army was like 'just do something that pleased Jammeh and the next day you are given a captain, or major rank or whatever rank he (Jammeh) may think of because Jammeh didn't know the set-up in the army."
The former savvy army commander admitted that it was very difficult to work with Yahya Jammeh, saying "every day you had a new chapter. While you are building Jammeh, others are destroying Jammeh, hence it's what cost him his political career."
TRRC Essa Faal, he explained, is a mouthpiece and whatever the investigation team presents to him is what he presented to the people. "So, you will not hold him responsible. However, he (Essa Faal) sometimes needs to be given credits. So, the TRRC is like people living in a 'symbiotic environment' because 'you will benefit and they will benefit' too.
Francisco, he explained, the Italian man who came into the country under the then National Intelligence Agency's (NIA) payroll shot his in-law in Brufut. "I went up to him to a level that he (Francisco) knew that he had to leave the country. He was not a soldier and he can't take my soldiers and started running an operations. He was a bodyguard under Jammeh but not under the military."
The multi-award winning ex-CDS said what he regretted most during his time as the army commander was about soldiers being involved into politics up to the extent of even "killing people." Col. Jatta the 79th TRRC witness admitted that he didn't tell Essa Faal everything during his testimonies.
According to him, he regrets everything that happened during the April 10 and 11 students' demonstration that led to the death of so many students.
Read Other Articles In Article (Archive)