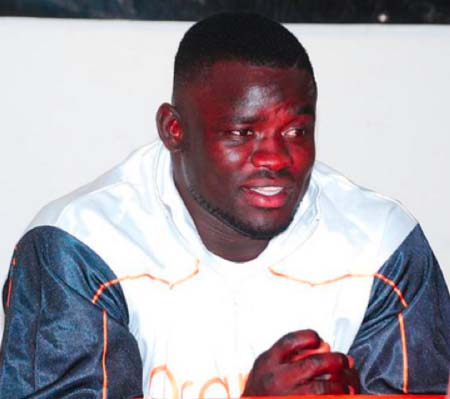 Following the victory of Eumeu Sene against Balla Gaye 2 in a tough bout on 5 April 2015 in Dakar, Senegal, the new aspiring King of the Arena, who is in The Gambia at the invitation of President Yahya Jammeh, has received a handsome handshake from the Gambian leader.
President Jammeh, who received Eumeu Sene at State House over the weekend, gave him a Presidential treat and exhibited the pan-African spirit and his usual gesture of generosity by giving the wrestling champion and his wife two vehicles – a four-wheel drive Pajero and a car.
The vehicles were presented to the couple by Energy Minister Sira Wally Ndow-Njie on behalf of the Gambian leader.
President Jammeh thanked the wrestling champion for taking his advice to be humble, modest and not to allow his victory getting into his head.
The Gambian leader also thanked Eumeu's wife, family and fans for their loyalty, encouragement and support.
Sports Minister Alieu K. Jammeh, who moderated the occasion, said President Jammeh is a great pan-Africanist who always promotes and supports Africa and her values.
Sira Wally Ndow Njie, Minister of Petroleum, in her remarks, said the Gambian government would explore avenues on how to tap from Sene's talents to promote and develop wrestling in The Gambia since many of the youth aspire to engage in professional wrestling.
The Minister of Tourism and Culture, Hon. Benjamin Roberts, spoke of the potential wrestling has in the revival of African culture.
For his part, Eumeu Sene, his wife seated by his side, spoke about his admiration for the Gambian leader, who advised and prayed for him to face any opponent in the arena.
"I feel inspired and I have now seen the results of the President's prayers, which also brought me the victory. President Jammeh is deeply religious and a God-fearing leader, a role model to be emulated," the wrestling star said.
"I promise to work harder to reach the highest level. I sincerely thank the President for the warm welcome accorded me and my wife, for the prayers and the two cars presented to me and my wife."
Read Other Articles In Article (Archive)