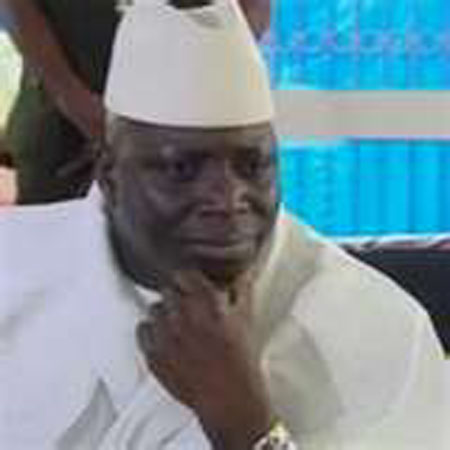 Issues Six Months Ultimatum for Completion
The President, Alhagi Dr. Yahya Jammeh, has expressed dissatisfaction over the slow pace at which the Barra- Amdallai road project is progressing and has issued a six- month ultimatum for the completion of the project.
The Gambian leader showed his disappointment while speaking on Monday shortly after inspecting the project site in North Bank Region as part of his 'Dialogue with the people tour'.
Also speaking at a meeting in Kerewan, North Bank Region, President Jammeh voiced out strong views on his call for people to go back to the land, reiterating that unless Gambians change their attitudes and heed his 'back to the land call', things would continue to be difficult for them. "My coming here is because I am the agriculture Minister, to know your problems, and also to thank you people for the past election," he explained.
According to President Jammeh, Gambian people tend to gripe about hardship in the country but they have no one to blame for such a situation other than themselves. "We are sitting and saying that things are difficult, but foreigners are coming here, striving and making lots of money and returning home. When I called for people to go back to the land, people did not understand. What I foresaw at that time is what is happening presently. Where a president is farming, what should an alkalo, chief or any other person be waiting for," he asked.
He revealed that he has already ordered 500 tractors but not for free of charge this time around because, as he put it, Gambians tend not to take anything free of charge seriously.
"On two occasions, I have provided tractors but they were not properly taken care of and they ended benefiting only few people," he indicated.
President Jammeh also indicated that fertilizer would also be provided but not free of charge as previously. "Initially it was free of charge and people who were not even farmers used to take it and sell it across the border," he disclosed.
He intimated that it is only the women that he could give it to on credit basis because, according to him, women are more hard working and trustworthy. Following complaints that women lack market for their produce, he promised to buy all the produce women may harvest.
Turning to the issue of high price of rice, President Jammeh explained that it is a difficult issue, but assured that from then to October, the end of the rainy season, his government would do all it takes to stabilise the price of rice.
He was however quick to add that he would not feel bothered after the rainy season with regard to the price of rice, even if a bag of rice should shot up to D10,000.
Read Other Articles In Article (Archive)