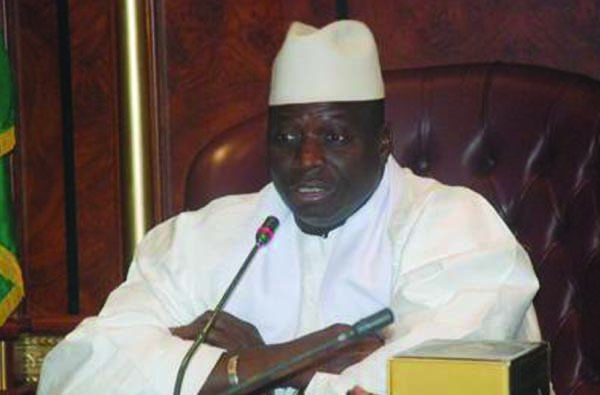 President Yahya Jammeh has again denounced the practice of homosexuality, saying that as long as he remains the President of the Republic of The Gambia, such practice will never be accepted in the country.
Jammeh, who was speaking Monday during the swearing-in ceremony of ministers of his new Cabinet, said anyone engaged in such practice in the country is in the wrong place.
"We know what human rights are. Human beings of the same sex cannot marry or date," Jammeh told Cabinet ministers, who took three different oaths of office, allegiance and secrecy, administered by the Secretary to Cabinet Saikou K Gassama.
"If you think it is human rights to destroy our culture, you are making a great mistake because if you are in The Gambia, you are in the wrong place then," he added.
Having denounced the practice several times before, especially in the year 2008 when he gave an ultimatum for homosexuals to leave and vowed to "cut off the head" of homosexuals found in the country, Jammeh said that discipline based on Gambian tradition will be enforced to the letter.
"If we Africans are to build our societies based on outside dictates and structure our cultures based on alien cultures, we will be the losers. But if they (the West) think they can sit there and dictate to us how we should live, The Gambia will be an exception because we will not compromise our cultural and spiritual values," Jammeh said.
While commending and congratulating the newly-appointed ministers for accepting their appointments, President Jammeh stressed that the journey ahead is a difficult one.
"Is the journey a long journey? Yes and No; Yes, if we decide not to work together; No, if we decide to unite as Gambians bearing in mind that The Gambia is greater than any individual, tribe, or region; that the interest of the country supersedes egocentric or individualistic interests," he told the ministers.
According to the Gambian leader, it is the journey of nation-building and not a journey of tribal, regional or individual building.
"Nobody was forced to accept this appointment. So, please if you don't play by the rules just march out of the field quietly in a dignified way," Jammeh told members of his new Cabinet.
"For the interest of this country", he went on, "I am staking my life for it, and I have always done that".
"My life is for this country; for the welfare of the Gambian people, and I'm not going to compromise. What is going to destroy this country; I will rather die than to accept that.
"So we have a choice to make, and we have sworn in. So if one day you realise that your heart is not for this country, just resign," he added.
While urging the citizenry to be committed in whatever positive trade they are engaged in for the sake of national development, Jammeh said as Gambians and Africans, we must build a country that is commensurate with our national objectives; a society that conforms to our norms and spiritual and cultural values.
Dr. Njogu Bah, Secretary General and Head of the Civil Service, urged members of the new cabinet to be committed, and to have the interest of the country first.
"I am convinced that you are all citizens that would work day and night for the betterment of this country, in appreciation and recognition of the fact that you have been chosen out of many to contribute your quota," Dr Bah stated, urging them to bear in mind that time is against them.
Other speakers included Lamin Waa Juwara, newly-appointed minister of Local Government and Lands, Fatou Gaye, minister of Forestry and Environment, Lamin Jobarteh, minister of Justice, Mambury Njie, minister of Finance and Fatou Lamin Faye, minister of Basic and Secondary Education all of whom commended President Jammeh for the trust and confidence he has in them.
They also promised to live up to expectations.
The ministers sworn-in on Monday were Fatou Mass Jobe-Njie, minister of Tourism and Culture; Mambury Njie, minister Finance and Economic Affairs; Abdou Colley, minister of Fisheries, Water Resources and National Assembly Matters; Momodou Tangara, minister Foreign Affairs, International Relations, and Gambians Abroad; Dr Mariama Sarr-Ceesay, minister of Higher Education, Research, Science and Technology; and Fatou Lamin Faye, minister of Basic and Secondary Education.
Also sworn-in were Sheriff Gomez, minister of the Interior; Solomon Owens, deputy minister of agriculture; Teneng Mba-Jaiteh, deputy minister of petroleum, Lamin Waa Juwara, minister of Local Government and Lands, Alieu Kebba Jammeh, minister of Youth and Sports, Kebba S. Touray, minister of Trade, Regional Integration and Employment; Fatou Ndeye Gaye, minister of Forestry and the Environment; Lamin AMS Jobarteh, attorney general and minister of Justice and Francis Liti Mboge, deputy minister of works, construction and infrastructure.
Meanwhile, the Vice President and minister of Women's Affairs, who is currently out of the country, is yet to be sworn in, likewise Fatim Badjie, minister of Health and Social Welfare.
A key post also yet to be filled is the ministry of Information and Communication Infrastructure.
Among those replaced in the former Cabinet are Justice Minister Edward Gomez, minister of Forestry and the Environment Jatto Sillah, now Gambia's ambassador to Sierra Leone; minister of Fisheries and Water Resources Lamin Kaba Bajo now Gambia's ambassador to Morocco; and former Interior minister Ousman Sonko, now Gambia's ambassador to Spain.
This paper has also learnt through sources that one-time APRC National Mobiliser and minister of Fisheries Yankuba Touray is now Gambia's High Commissioner to Senegal.
The Office of the President is currently overseeing the ministries of agriculture; works, infrastructure and construction; energy; defence; petroleum; information and communication infrastructure.
Read Other Articles In Article (Archive)