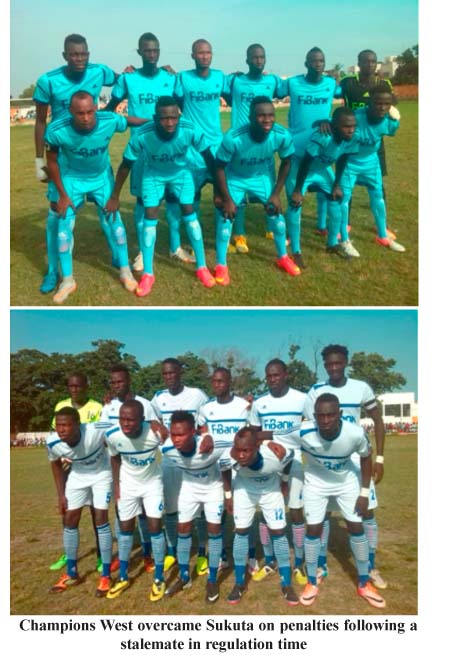 Serrekunda West were on Saturday 14 November 2015 crowned champions of the super nawetan championship after beating Sukuta 4-2 in a post-match penalty shootout.
The final played at the Serrekunda East Mini Stadium culminated in an extraordinary style as the event was graced by important dignitaries around different sectors of workplaces, among them the president of the Gambia Sports Journalists Association, Musa Sise, and a representative of the sponsors, First International Bank (FIBank), Sambujang Jammeh.
Mr Jammeh took the kickoff of the well-contested encounter that attracted thousands of fans, football enthusiasts, and spectators from various parts of the country who filled the park to capacity.
Abdoulie Cham sent in a powerful shot, which was blocked by the West's defending line in the 17th minute after a wonderful throw-in ball from Alassan Jatta.
Few moments later, Bakary Barrow, on target, shot struck on the bar after Edrissa Jatta extended a long range from the right-hand side in the 37th minute.
Sukuta, who dominated the most part of the first period, did produce some goal threats which the West boys kept packing with their defensive half.
Upon resumption, Serrekunda West fought back to re-possess themselves in the game and finally dictated the major part of the second 45 minutes.
The West skipper, Ebrima Busso's throwing head went wide in the Sukuta's penalty box, through a fantastic cross from Pa Omar Bojang in the 63rd minute.
Just a momentary from that chance, West's Pa Omar Bojang earned himself the second yellow card for ruling the Sukuta's goal line in the 71st minute. West's tallest man, Muhammed Jallow's exquisite header was denied by goal keeper Bakary Sabally.
The West's sweeper, Daniel Gomez, was sent off for a reckless foul on Dawda Sisoho after receiving the first yellow card in the first half for putting down Alagie Bojang in the 23rd minute and another and in 86th minute.
It was a bit ugly in the end when cards were raining in. West's left Hassana Drammeh and Sukuta's skipper, Baboucarr Cham, were both booked for an audience challenge and indecent behaviour in the stoppage time.
Serrekunda West went home with a giant trophy and a cash prize of D75,000 as champions, whilst Sukuta received D50,000 as runners-up. 
Read Other Articles In Article (Archive)