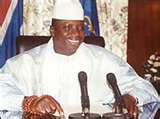 In yet another no non-sense reminder to all supposed armed robbers, drug traffickers and paedophiles, President Yahya Jammeh has said his government will not deal such inhuman acts in this country.
"We will not tolerate armed robbery, we will not tolerate drug trafficking and we will also not tolerate any form of paedophilia", he said, adding that this does not mean that The Gambia is a racist country.
President Jammeh was speaking last Friday during the passing-out ceremony of 876 recruits of the Gambia Armed Forces, intake 29, that was held at the July 22nd Square in Banjul.
President Jammeh maintained that The Gambia is open to people of all races and religions, but added that this can only be if they abide by the laws of this country.
"We welcome all races and religions as long as they are going to abide by the rules of this country. They are welcomed to stay in this country because that is what humanity is all about," he said.
The Gambian leader clearly noted that armed robbers and drug dealers are not welcome in this country.
 "We will not accept any form of armed robbery and drug trafficking in this country. Drug is like Aids. It destroys young people who are the cream of society. As Muslims and Christians, drug trafficking is illegal and we should not encourage it," he stated
He called on the members of the Armed Forces to be vigilant, noting that wherever there is drug dealing, the tendency of corruption is rampant. "Without the Armed Forces, our sovereignty cannot be guaranteed. Our peace and stability cannot be guaranteed. Our rapid socio-economic development cannot be sustained. So this shows the importance of the Armed Forces," President Jammeh asserted.
The Gambian leader also noted that The Gambia believes in peace and love, and its objective is to be a friend to all.
"We are neutral and very independent. We are friends to all irrespective of their religion, colour, race or wherever they come from."
For President Jammeh, human progress can only come through peace and stability, but peace and stability can only come through love and respect for each other.
He added that as far as The Gambia is concerned, irrespective of where one comes from, as far as he or she is patriotic, and wants to serve this country, he or she is welcome.
Turning his attention to what he described as sceptics who do not wish this country well, President Jammeh called on them to always tell the truth about this country rather than just lying against this country just to get green cards or political asylum.
"The country is moving forward and sooner or later you will want to come back, you will find us on the ground. No matter how long a stick stays in water, it can never change to become a crocodile. So say whatever you want to say," he fumed.
Meanwhile, President Jammeh donated two clinical buses to the Gambia Armed Forces. He also presented 11 bulls, 100 bags of rice, 100 bags of sugar, 100 gallons of oil, 50 bags of onions and D50, 000 cash for the graduation party of the new soldiers.
Read Other Articles In Article (Archive)